Cheesy Pecorino Corn with Italian Herbs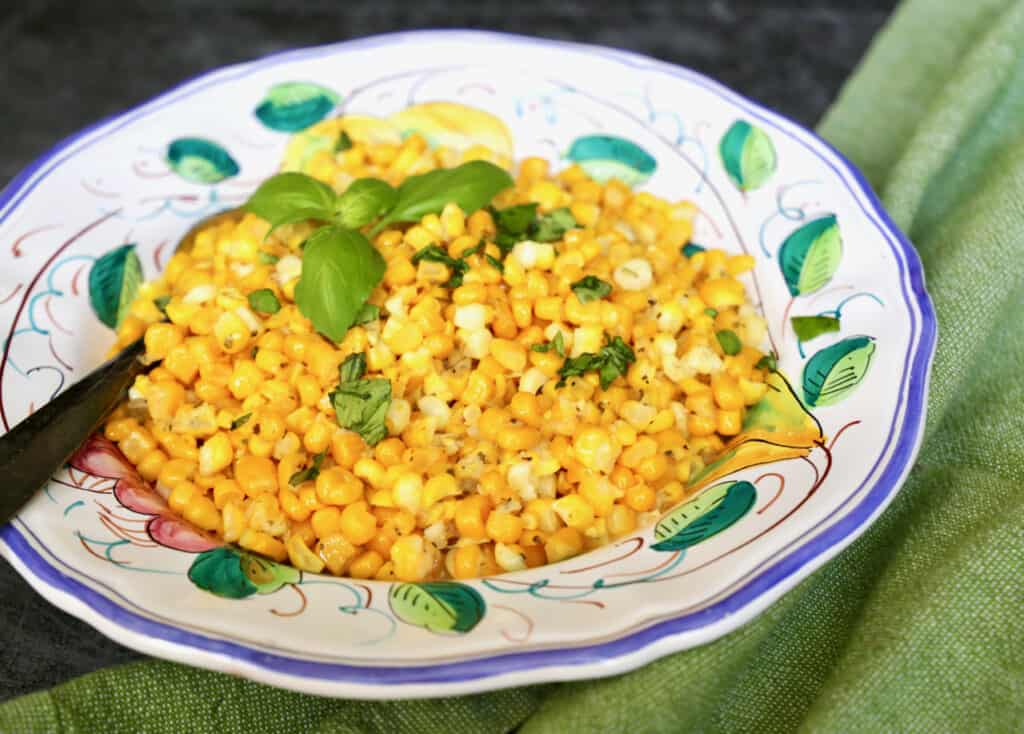 Summer just wouldn't be summer in the States without sweet corn on the cob dripping with warm melted butter! And most definitely it would not be summer in the Midwest without consuming massive quantities of simple, unadulterated corn on the cob! But this recipe for Cheesy Pecorino Corn with Italian Herbs will open up your summer food traditions to a whole new level.
If you're thinking that it's really odd for any Italian recipe to have corn as the primary ingredient, you'd be spot on correct! Most Italians don't eat corn straight off the cob or even shucked off of the cob. Corn is used primarily in cornmeal for polenta. All other corn in Italy is primarily to fatten up those pigs that end up in delicious prosciutto!
Corn is not native to Italy. Corn was brought back to Italy by Columbus around 1492 when this new grain was discovered. Tomatoes aren't a native plant to Italy either. I can't imagine Italian cuisine without the beloved tomato — that came from America!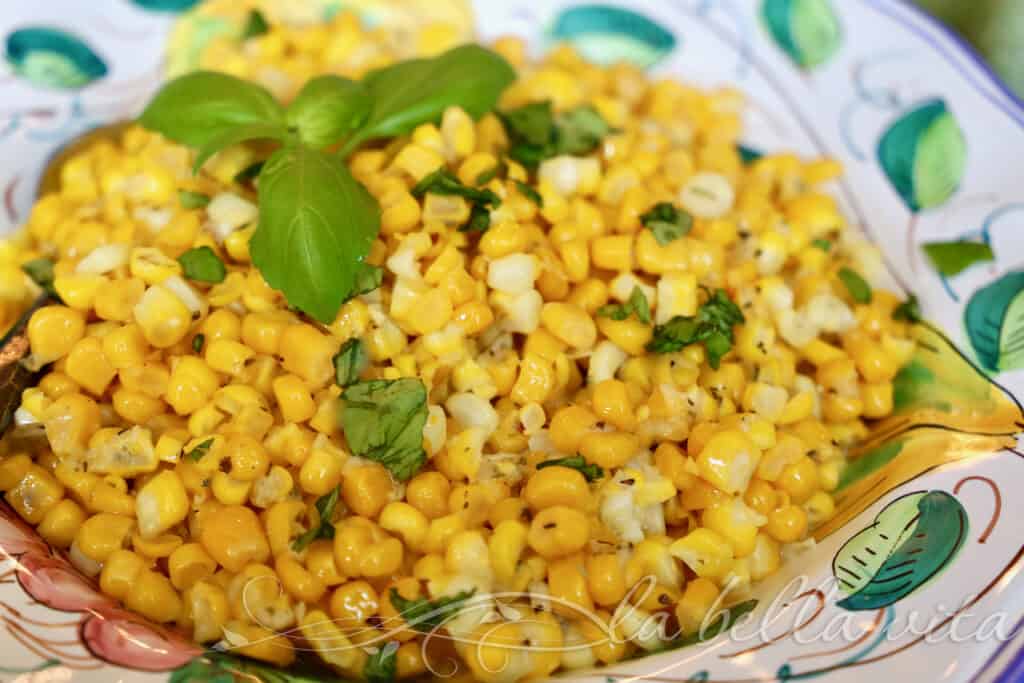 Anyhow, what's important is that Americans are crazy about corn. We love and adore sweet, golden corn!
I found two highly-rated side dish recipes using fresh corn that inspired me for this new recipe. But each recipe just seemed to be missing something that was in the other recipe. So I experimented and came up with this DELICIOUS corn recipe with a little Italian twist.
It's ADDICTING!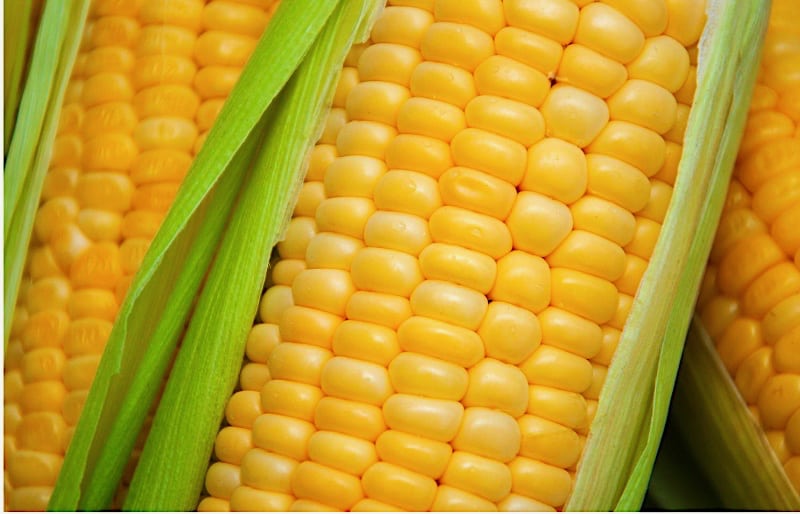 Helpful Tips on Selecting and Cooking Corn:
Select ONLY corn inside their husks that need to a very deep, dark green and the husks need to be tightly hugging the corn cob, not loose, not soft either.
It's all about the TASSEL! How fresh the corn is by the condition of the silk which should be slightly moist. That fuzzy fluff of stuff on the top of the corn should be a delicate, light gold color and have a little stick touch to it. Give your nose a good whiff of the tassel and select corn that has a sweet aroma and no moldy-musty smell. If the tassel is dark brown or black and feels mushy with loose leaves, don't buy it because it has gotten too old.
Squeeze each ear of corn to feel the kernels through the green leafy husk. Corn should feel firm and the kernels should be plump and not hard.
Look for tiny brown holes in the husk, especially towards the top. Those are wormholes, and any corn with worms should be avoided.
Refrigerate corn immediately once you get home. Or cut off the kernels to freeze for later.
COOK FRESH PICKED CORN AS SOON AS POSSIBLE! The sugar in the kernels starts to turn to starch. Did you know that within 24 hours of being picked, corn will lose 25% of its sugar converted to starch? So always remember that the closer you cook corn to the moment of being picked, the better corn tastes!
Corn should be prepared and eaten within 2 days before it begins to get soft and starchy.
To store for a few days, place corn in a refrigerator crisper drawer, left in their husks, and wrapped tightly in a plastic bag with damp paper towels around them to keep them moist. Dry air is corn's enemy. If the kernels dry out, it will taste starchy.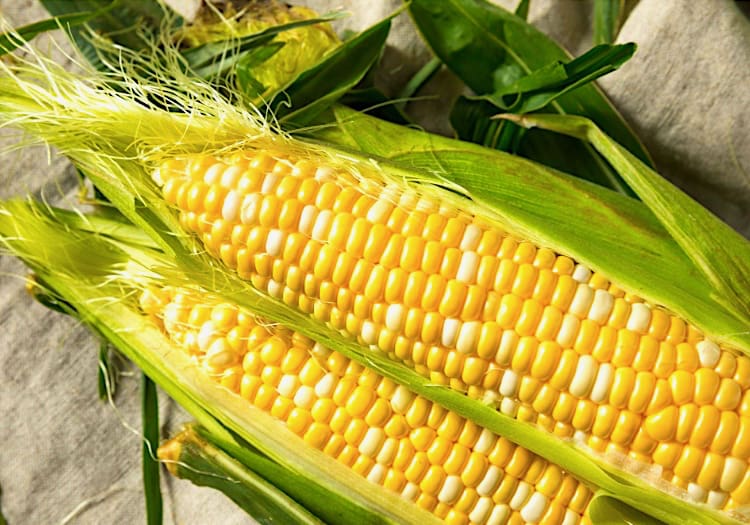 This recipe really is amazing . . . and as easy as boiling corn on the cob!
Speaking of boiling corn!
What's the Best Way to Cook Fresh Corn?
To Boil, Grill, Roast, or Microwave Corn?
Boiling Corn:
Overall, the simplest and most popular method to cook fresh corn on the cob.
Use a large, tall pot that you can easily fill with enough water to cover the amount of corn ears you'll cook.
Get the water boiling first. While the water heats up, clean (husk) the corn.
Pull back the green husk and silky tassels and then discard them.
OPTIONAL and highly recommended: Add 1 cup of milk and 1 stick of butter to the boiling water.
Carefully add the ears of corn into the hot, boiling water, milk and butter. The water will cool down a bit with these additions, so allow the liquid to boil again.
Cook for 8 – 10 minutes.
Remove corn from the cooking liquid.
Serve immediately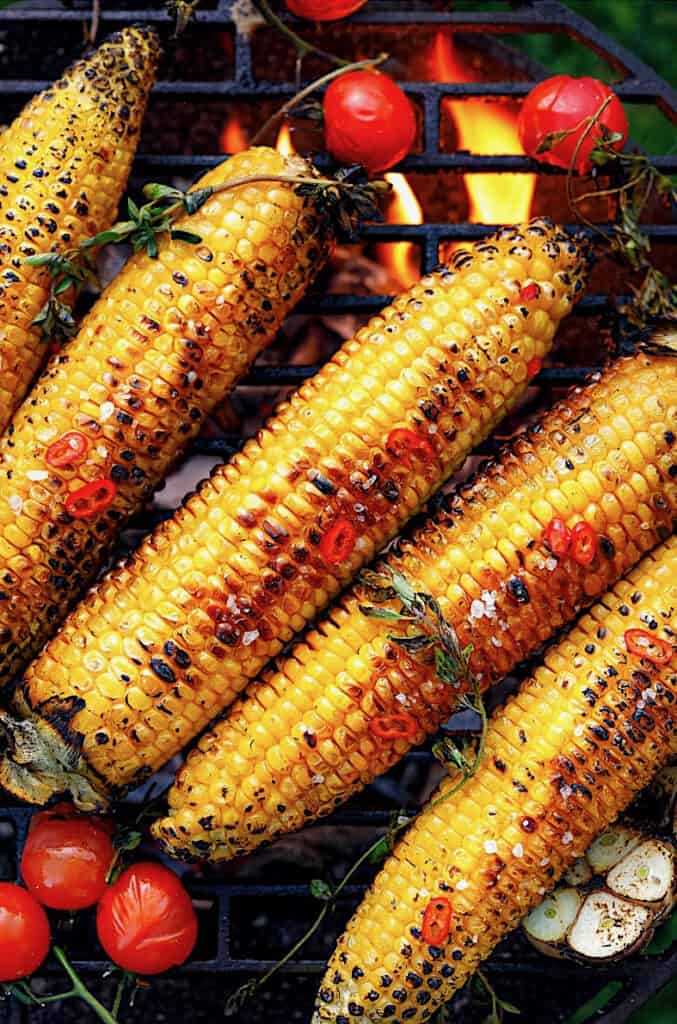 Grilling Fresh Corn:
Grilling or oven roasting is the best method to feed a lot of people and the flavor is more enhanced.
Preheat grill to high heat to 450ºF.
Remove the husks or leave them on. If you leave the husks on, you must soak the corn in water for a minute or so in order to prevent burning.
If you remove the husk, then rub some softened butter on the corn kernels before grilling or roasting.
Cover the grill and cook for 8 to 12 minutes, flipping the corn every 2 to 3 minutes to char each side.
Oven-Roasted Fresh Corn:
Shuck the corn.
Place each ear of corn on a piece of aluminum foil.
Place butter in the center, sprinkle with salt and pepper.
Tightly wrap each ear of corn in aluminum foil and roast directly on the oven rack, butter side up.
Roast at 375ºF degrees until kernels are tender, about 30 minutes.
To prevent burning your hands, allow the cooked corn to cool a bit before removing the husk and silk.
Microwave Fresh Corn:
Place corn while still in their green husks, on a microwave-safe dish.
Cook 4 – 5 minutes until the kernels are tender.
To prevent burning your hands, allow the cooked corn to cool a bit before removing the husk and silk.
Instant Pot Fresh Corn:
Husk the corn, cutting larger ears of corn in half to fit in the pot.
Steam the corn on a trivet set inside the Instant Pot. Pour 1 cup of water in the Instant Pot, put a trivet (the one that came with your IP is ideal) in the pot, and then stand the corn halves on top of the trivet to ensure that each ear cooks evenly.
Melt as much butter as you prefer to use after steaming while the Instant Pot is still hot.
More Delicious Corn Recipes That You May Enjoy!
Products I Highly Recommend for Cooking with Fresh Corn
Deluxe Corn Stripper to Remove Kernels
Kitchen Timer (Shape and Color of Corn Cob)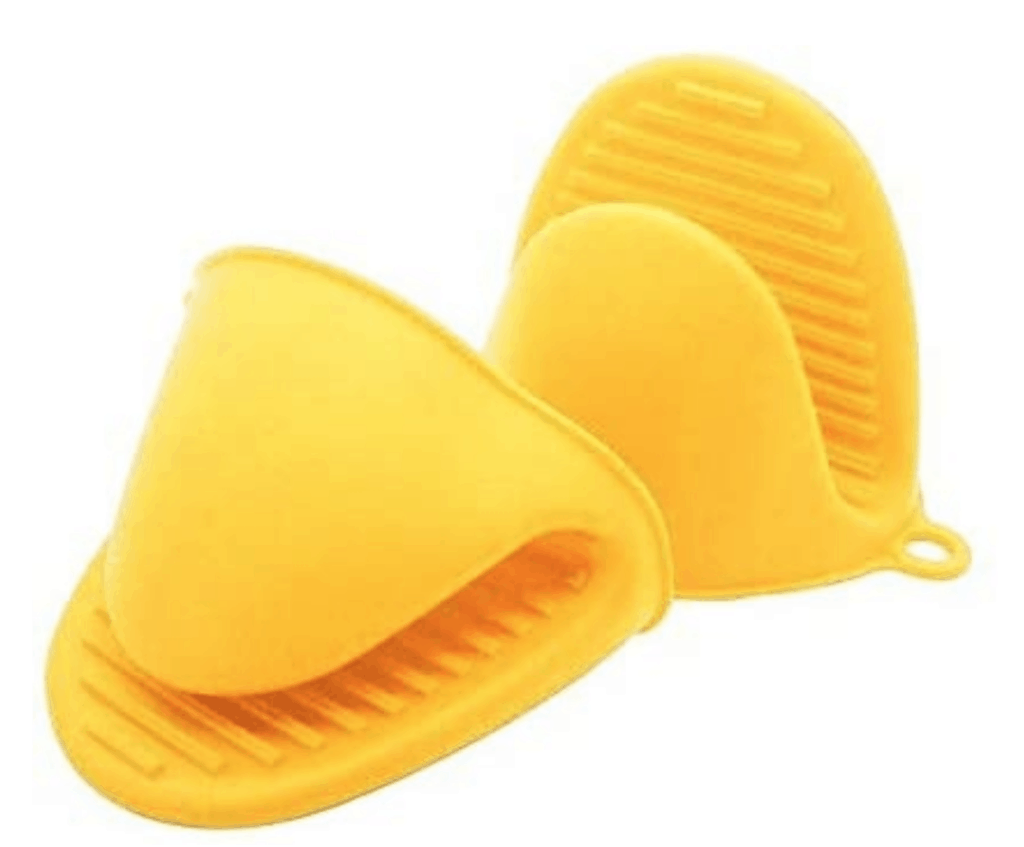 Heat Resistant Silicone Mini Handmitts (These are incredible!!!)
PIN FOR LATER!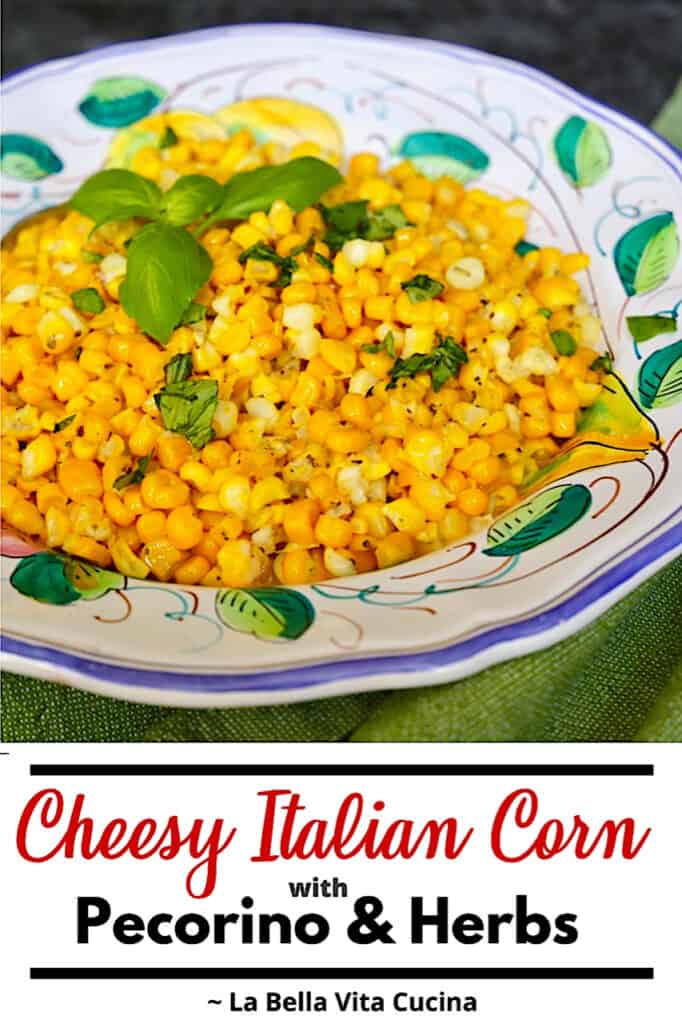 Print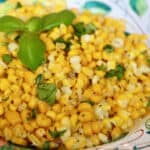 Cheesy Pecorino Corn with Italian Herbs
Author:
Prep Time: 15 minutes
Cook Time: 15 minutes
Total Time: 30 minutes
Yield: 6 servings 1x
Category: Side Dish
Method: Boiling, Sauteing
Cuisine: Italian
---
Description
Guests will come back for second and third servings of this amazingly delicious corn side dish that's gently seasoned with Italian herbs and Pecorino Romano cheese.  Perfect for summer to pair with burgers at a cookout, or any time of year.  During the winter you can use your frozen corn or canned.  Both are excellent in this recipe.
---
2 Tbsp. butter (preferably salted)
2 – 3 cups boiled corn removed from the husk and/or 1 can Niblets corn (drained)
1 shallot, minced
2 green onions/scallions, sliced and diced, including the fresh part of the green stems.
1 Tbsp. Italian seasoning
2 cloves of minced garlic
1 pinch of dried red pepper flakes (about 10 flakes total, use more if you like more heat in your recipes)
⅓ cup freshly grated Pecorino Romano cheese
Fresh basil leaves
---
Instructions
Remove husks from the corn on the cob.
Fill a large pot with water and boil.  Once water boils, add the corn on the cob and boil for 10 minutes.  NOTE:  Prepare your fresh corn the way that you normally do if you don't prefer to boil it.
Allow the corn to cool off so you can handle it without burning your hands.
Once cooled a little bit, take a serrated knife and remove the kernals of corn from the cob.
In a large saute' frying pan, melt 2 Tbsp. butter.
Add the corn kernals and/or canned and drained corn (Nibletts).
Add the Italian herbs
Add the red pepper flakes.
Add the grated cheese.
On medium heat, bring everything to a nice heat, and continue stirring until the cheese is melted.
Garnish with minced fresh basil and a sprig of basil leaves (Italian parsley is also good to use).
---
Keywords: Italian Corn, Cheesy Corn