The Best Classic Bruschetta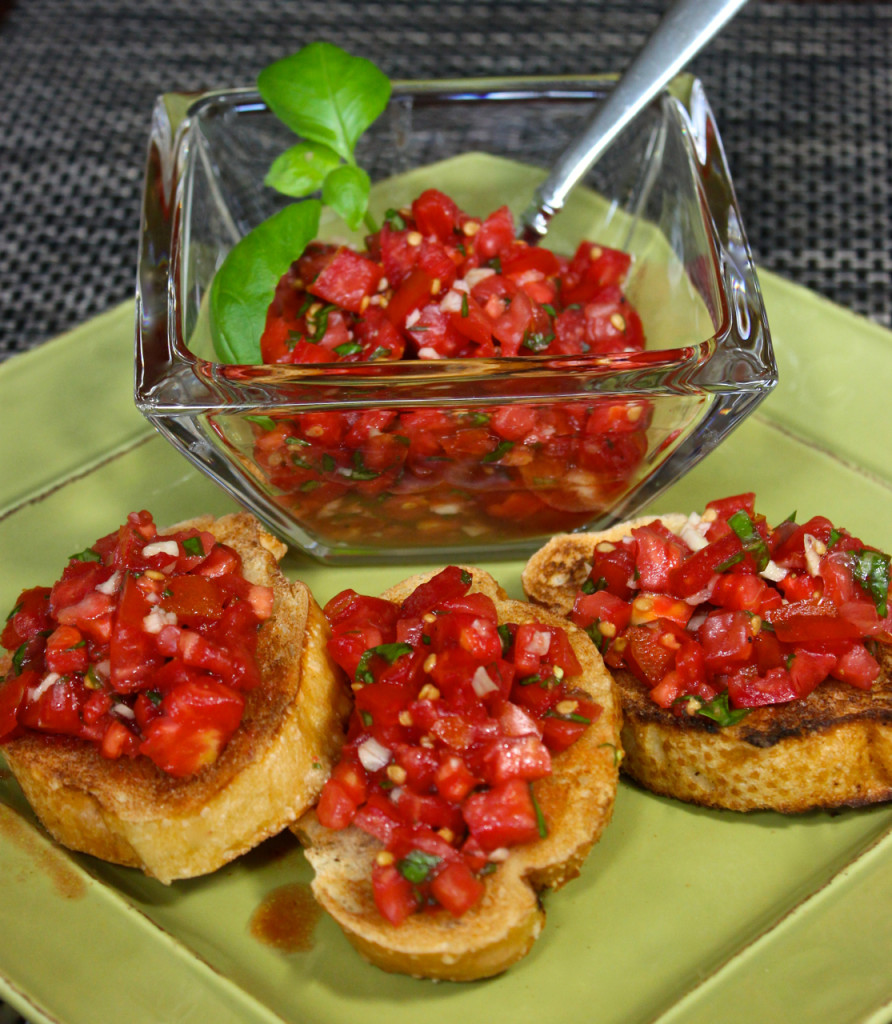 The peak of the season for ripe tomatoes is upon us.  And that means after waiting another full year, it's now time once again to enjoy delicious, classic bruschetta!  Halleluja!  It's time to scream out loud for this amazing Italian summer appetizer!   My family only makes bruschetta in the summertime in order to have the key element for the perfect bruschetta: . . . to use only bright red, RIPE, juicy tomatoes.  
One of the BEST things about summer's juicy, ripe tomatoes fresh from the garden or farmers' markets, is that you can enjoy the best Classic Bruschetta like no other time of the year!
This family recipe is THE BEST bruschetta in the world!  The essence of all those fresh garden flavors is captured perfectly in this amazingly simple recipe.
Whenever my husband and I visit our family in Italy, we always enjoy bruschetta or Caprese salad because the fresh San Marzano tomatoes in Italy are indescribable!  This recipe was created by my sister-in-law and it's always sold out in their ristorante!
Now if you can't get tomatoes from a garden or farmers' market, you can order the best tasting, no-substitutes, imported tomatoes from Italy:  Link to order –>  Imported San Marzano Tomatoes from Italy and they are canned already with the peels off for you!  There is a large variety of brands to choose from and they aren't very expensive at all!
Oh, and did I tell you that this classic Bruschetta is fabulous?
Prepare this at least an hour ahead of time so that all of the delicious flavors marry and blend nicely.  Serve bruschetta already topped on small slices of toasted bread OR set it out in a pretty serving bowl alongside toasted bread slices which allows guests to top their own bread slices (the latter way also prevents the toast from getting soggy as they sit on a tray from the juice of the tomatoes).
Then sit back and watch your guests devour this classic bruschetta!
What Ingredients are Used in Classic Bruschetta? 
Bruschetta is really simple to make with basic ingredients.  So put on some great Italian music and let's get cooking!
Here's what you'll need:
Ripe, Red Roma Tomatoes – Firmer and less juicy than other varieties, Roma's are full of tangy flavor with a garden-fresh taste that's ideal for bruschetta. Although hard to find, San Marzano tomatoes are the best.
White Onion: Adds a nice crunch and added flavor that compliments the tomatoes.
Extra-Virgin Olive Oil:  This is the oil that we prefer, but regular olive oil works fine as well.  Use the best quality of EVOO you can find for the best flavor.
Garlic: Minced garlic has a more intense flavor than chopped.  Although we love a lot of garlic, it's a preference kind of thing, so add it to taste.  Jarred garlic is a 'no-no'.
Fresh Basil:  Never use dried basil in bruschetta.  Fresh basil is of utmost importance to tie all of the flavors together.
Crusty French Baguette Bread: Look for a slender loaf of crusty bread. When sliced and toasted French baguettes have the best crispy texture for bruschetta.
Thick, Aged, Balsamic Vinegar:  An essential ingredient from my hometown in Italy (Modena, Italy) that adds an essential, rich layer of flavor that creates the authentic bruschetta taste.
Kosher or Sea Salt:  You can use regular salt as a replacement if you don't have or can't find kosher or sea salt.
Black pepper:   Adds a little bit of spice that helps bring out the flavors along with the salt.
Select only the ripest, fresh Roma tomatoes for Bruschetta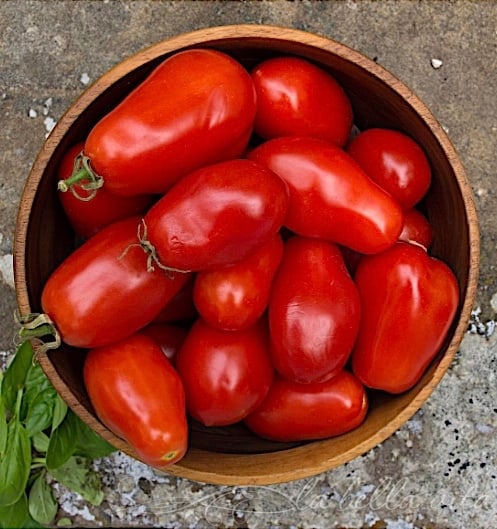 Always use the freshest basil and never dried in Bruschetta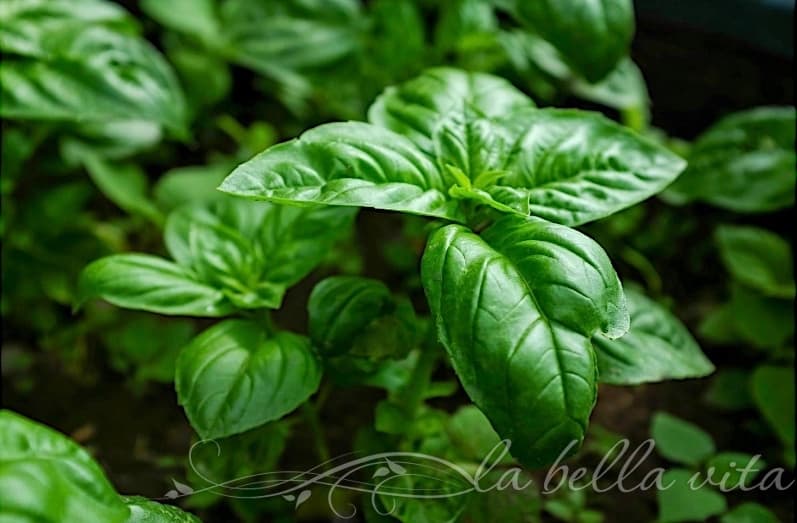 Use a crusty French baguette bread, drizzled with extra virgin olive oil and rubbed with garlic cloves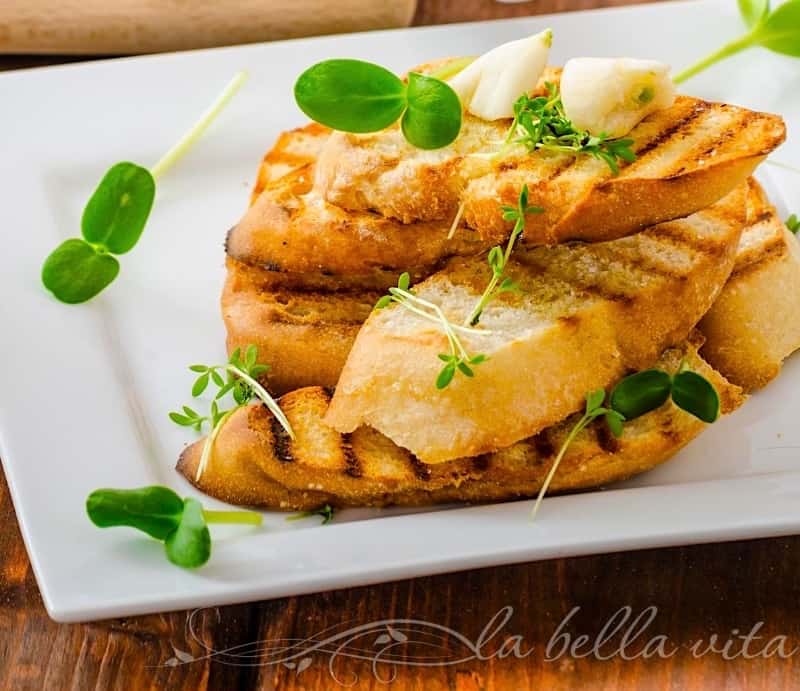 Tips on How to Make the Best Classic Bruschetta
Making classic bruschetta is so simple.  Any cooking novice can put a classic Bruschetta together with ease.  Simply follow the steps provided and in just a few minutes, your guests will be gobbling this down and praising you!
For the BEST results, be sure to only use the freshest, ripest, ingredients as possible.  Try to use Roma or San Marzano tomatoes.  These varieties have a little more firmness to them that prevents the appetizer from becoming mushy.  Outside of the summer months, unless you live in Florida, California, Arizona, or Texas, you want to avoid winter tomatoes.  They literally have no flavor and have a rubbery texture to them.
For the best results be sure to use as fresh of ingredients as possible. I suggest buying any fresh ingredients just a day or so before you plan to make this easy bruschetta recipe
Do not drain off all of the excess juices from the chopped tomatoes.  This is literally the secret sauce that soaks down into the toasted slices of bread.  Very addicting!  SERVE the bruschetta with 2 serving spoons:  one slotted spoon for guests who want less tomato juice and one spoon that has no slots for guests who prefer more tomato juice.
Use long, thin baguettes of French bread.  When sliced, this is the perfect size for an appetizer / finger food.
Brush both sides of bread slices with olive oil.  This creates a more crispy, golden brown color and texture.  The olive oil also prevents too much tomato juice from soaking into the toasts, keeping them crisper.
You can either toast your bread, roast your bread in the oven, or grill it for a deeper smoky flavor.  Totally up to you, but for us, it's faster and easier to roast the bread in the oven.
Oven ROAST-TOASTat 450 F degrees.   Simply line up the bread slices on an 18-by-13-inch baking sheet. Broil the first side until golden brown, then flip slices to the opposite side and broil opposite side until golden brown. Only use the broiler if you can stand by the oven to watch the bread so that it doesn't burn.  Don't pass up this step to roast/toast in order to keep the toasts extra crispy.
To TOAST the bread, well, this is time-consuming . . . use a 2 or 4-slice toaster, in which the bread slices are toasted on both sides at the same time, but only in the number of slices that your toaster allows.  Toast only until golden brown.  This works for very small batches or if you just want to have a little snack.
To GRILL the bread, just brush the slices with olive oil and place them directly on the grill grates with tongs. Cover and let the bread toast for about 3 minutes. When once side is golden brown with nice grill marks, carefully flip each slice with tongs and repeat on the other side.
Rub both sides of the bread slices with garlic cloves to help impart tons of flavor into the toasts.  Mmmm, smell that glorious garlic essence while rubbing it on!
Don't let bruschetta sit around.  Serve it promptly.
Serve with sliced bread toasts around a large platter or on a serving board with a medium to large bowl filled with the tomato mixture.  This not only keeps the bread toasts crispy, but your guests can assemble their own bruschetta with the amount of tomato mixture that they prefer.
Optional:  We really love the irresistible extra layer of sweet-sour flavor that a high-quality balsamic vinegar gives.  Simply drizzle some THICK balsamic vinegar over the tomato mixture for a fabulous flavor in every single bite!
If you can't serve it immediately, keep the tomato mixture separate from the toasted bread slices.  Assemble the bruschetta when it's time to serve so the toasts don't get soggy.
If making bruschetta for a party, you can toast and prepare the bread ahead of time, up to a few hours before serving.
If you have some leftover bruschetta, it's incredible served over grilled chicken (<- click for the recipe).
How to Store Classic Bruschetta
Bruschetta is not a good recipe to store.  If you have some leftovers (are you serious?) then place in an airtight container and refrigerate for up to 2 days max.
We simply love leftover Bruschetta on grilled chicken the next day!
Can you freeze bruschetta?
I don't recommend it at all.  This is a recipe for fresh, fresh, fresh ingredients.  The texture and the taste will be completely off if you froze it.
More Fresh and Delicious Tomato Recipes from Our Cucina!
When our garden is overflowing with ripe tomatoes, we enjoy using them in our favorite recipes . . . that we make each and every summer. Along with these recipes, we can and put up jars and jars of marinara sauce, Bolognese sauce, and salsa to stock up our freezers and pantry for winter.
Please let me know how your bruschetta turns out either in an email or down in the comments!  And if you take a photo, I'll share it here in this awesome foodie community as well as in the newsletter!
PIN FOR LATER!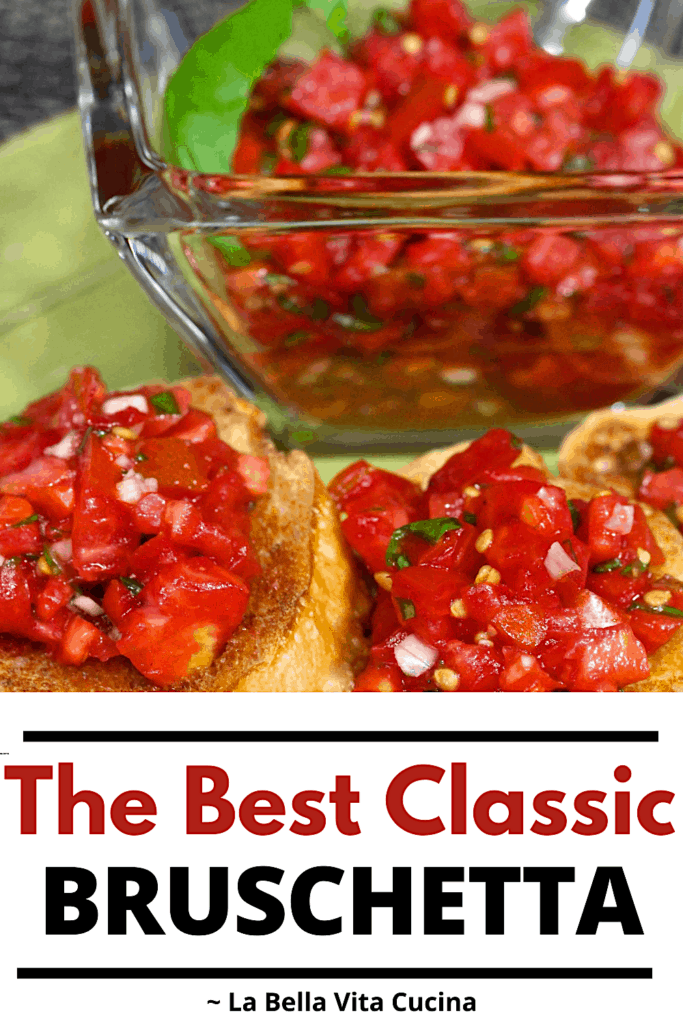 Are you ready to make the best, classic bruschetta you've ever had?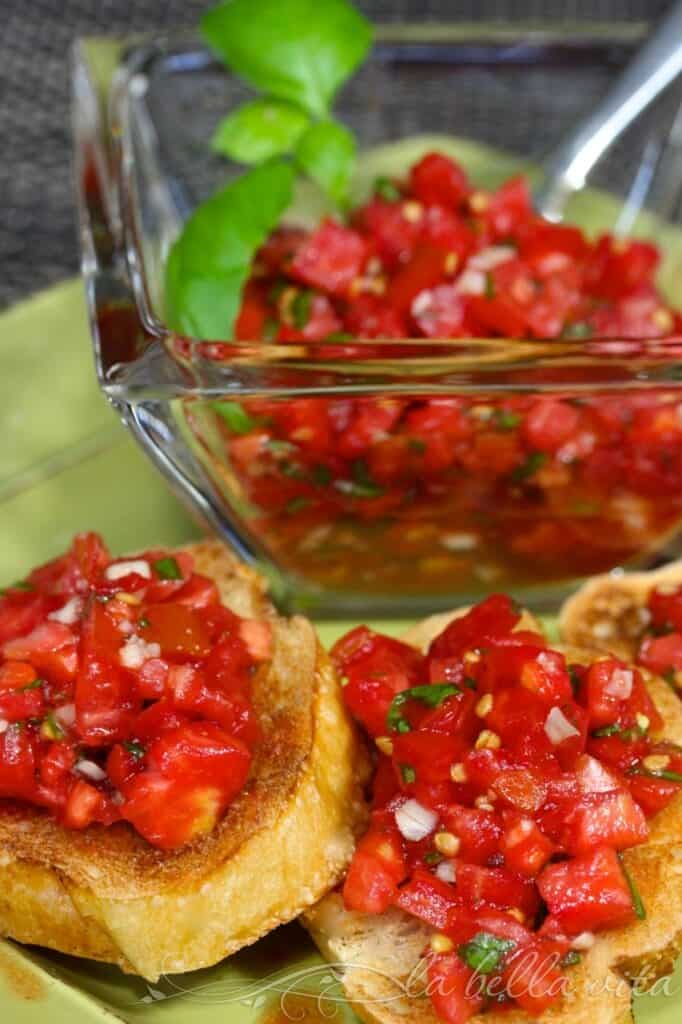 .
Classic Bruschetta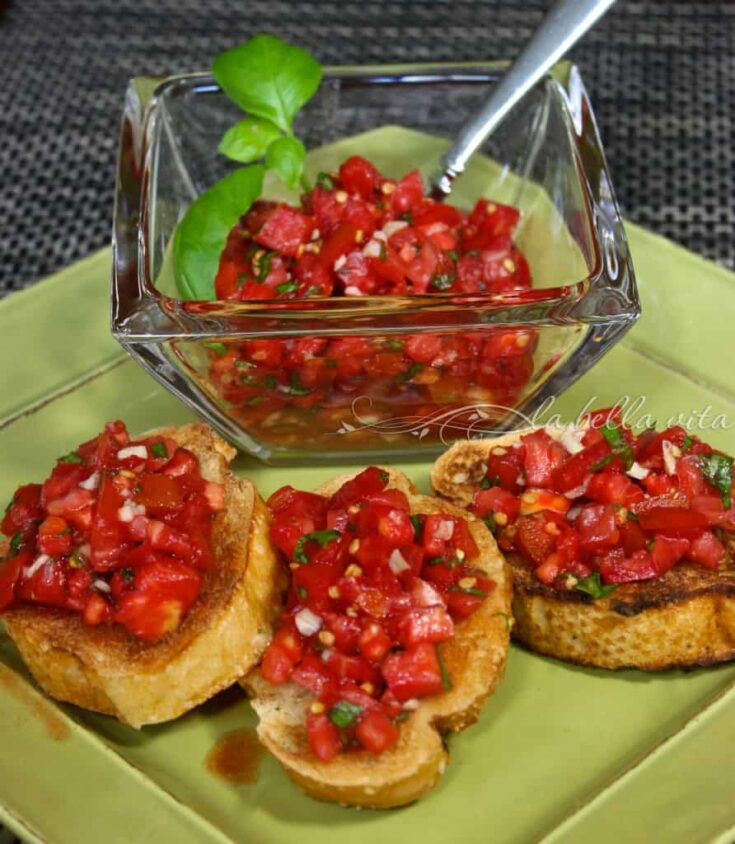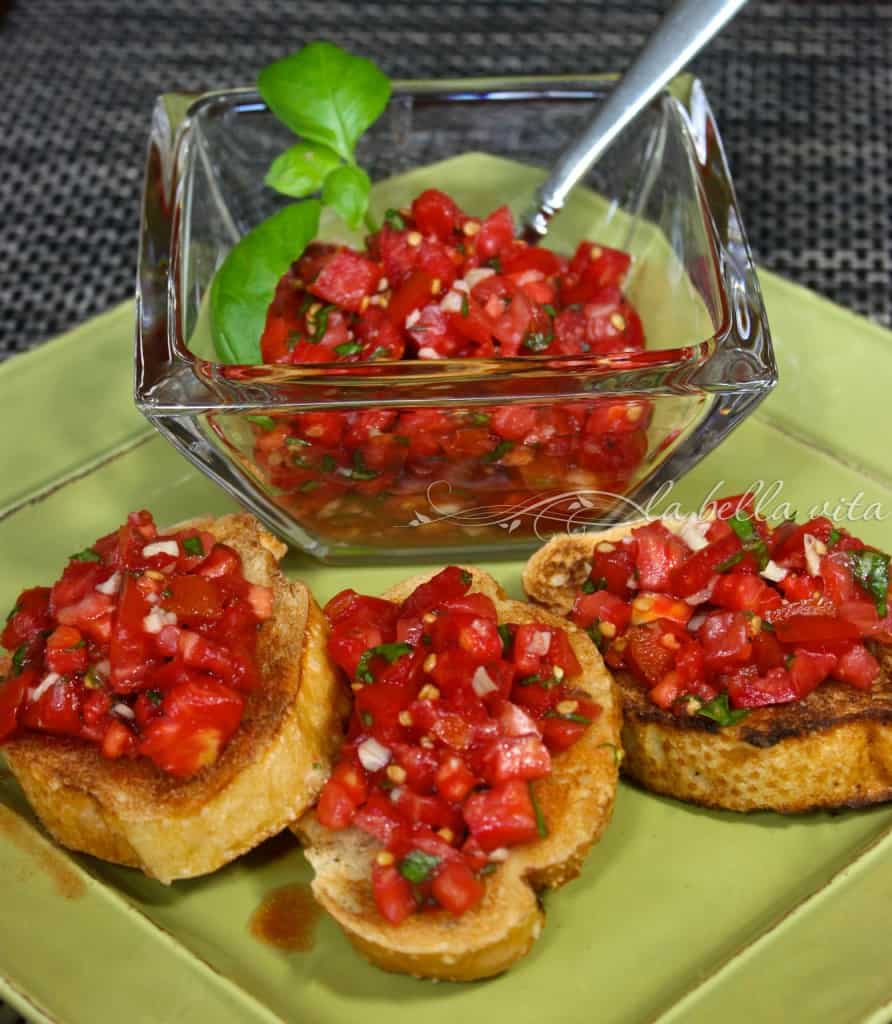 Prep Time 20 minutes
Total Time 20 minutes
Ingredients
1 - 2 long loaves of Italian bread, sliced about ½" thick
3 - 4 large cloves garlic, minced (I like more garlic, but use what you prefer)
3 Tbsp. extra-virgin olive oil
1 lb. Roma plum tomatoes, chopped (or used whatever freshest tomatoes you can find; from the garden is best!)
10 - 20 fresh basil leaves, chopped (I like more basil, but use the amount you prefer)
2 - 3 pinches of freshly grated sea salt or to taste.
Fresh grated black pepper to taste.
Optional: Juice of ½ lemon (if you need more, then add it).
Optional: Balsamic vinegar added (slightly) to taste.
Instructions
Preheat broiler to high or heat up the grill.
Place bread slices on a broiler pan.
Toast bread on each side under hot broiler, keeping an eye on the bread so that it doesn't burn!
Or if you're just doing a few slices of bread, use your toaster.
Remove from the oven, grill or toaster.
Optional: Rub each bread toast with garlic on the cut side.
Optional: Drizzle each toast with a little olive oil.
Place chopped tomatoes in a medium to large mixing bowl.
Add the sliced chopped basil to the bowl of chopped tomatoes.
Add minced garlic.
Drizzle the olive oil, sea salt and black pepper into the mixture.
Drizzle a little bit of balsamic vinegar into the bowl (optional).
Gently toss all of the ingredients.
BEST WHEN ALLOWED TO SET FOR 1 - 2 HOURS for flavors to marry.
Top each of the toasted bread slices with the tomato-basil mixture and place on a serving platter.
OR use a pretty serving bowl with large serving spoon and lay the toasted bread slices around the bowl on a platter for guests to self-serve.
This
This recipe was originally posted in 2014 and re-posted with more information in 2020.
.
EEnjoy this Classic Bruschetta with Tomatoes, Basil, and Garlic ! 
We're happy to share this time-tested, family recipe with 'amore' from our cucina and acreage to you.