Simply Amazing Italian Bruschetta Chicken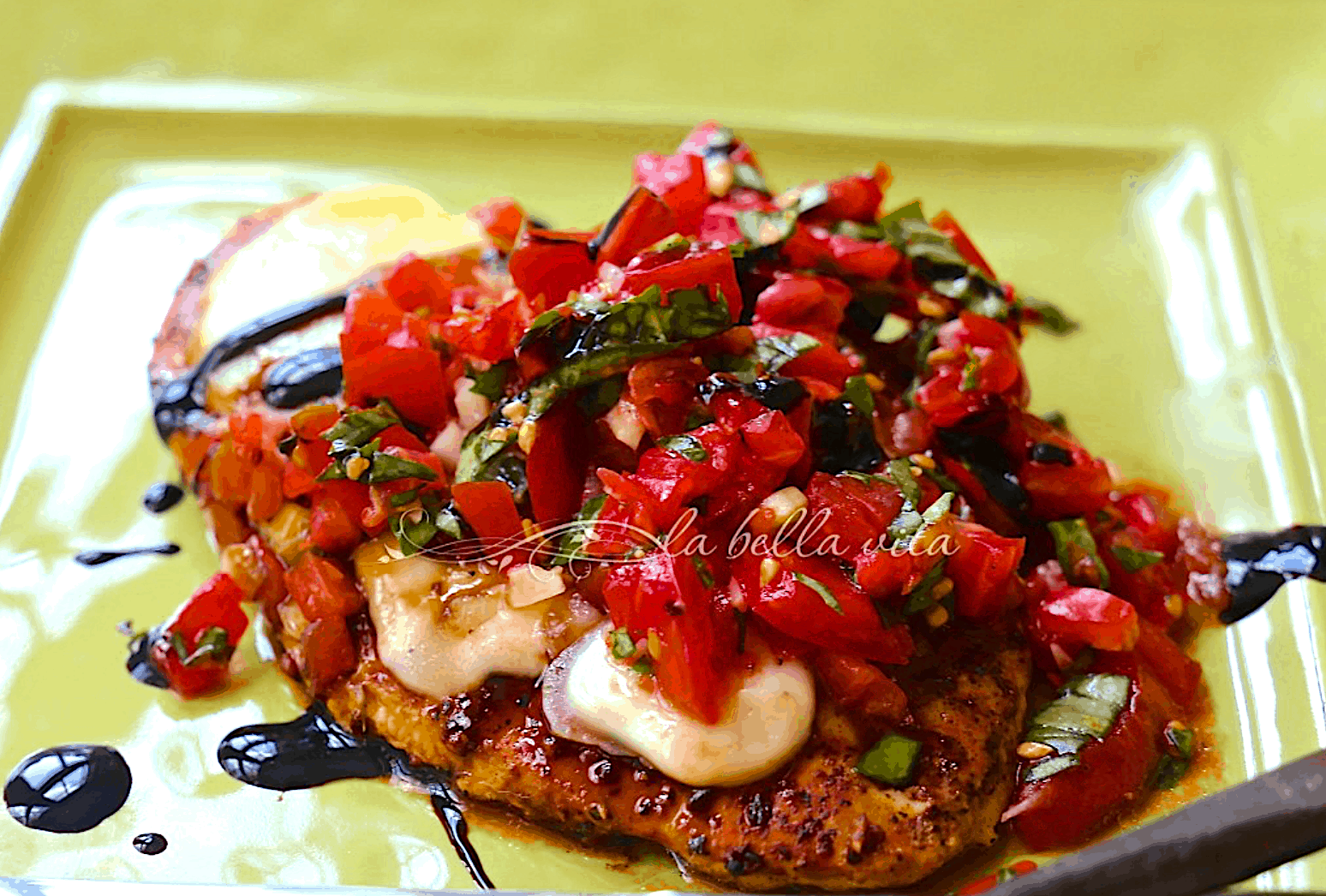 Nothing can be more summery than fresh-from-the-garden, vine-ripened tomatoes!  This recipe for Italian Bruschetta Chicken is guaranteed to be one of your repeat dishes every summer.  Juicy, grilled chicken topped with freshly-made bruschetta is not only delicious,  but it's also easy, healthy, and light (and NO carbs)!  This is an entree that is loaded with Italian flavor — you'll really love these.
And talk about easy!
You simply take some chicken breasts and season them lightly with freshly minced Italian herbs and then grill them.
Once grilled, just ladle some garden-fresh tomato Bruschetta on top.  I only use my family's Bruschetta recipe.  I LOVE this Bruschetta!  Here's the recipe that I've shared before on my blog (photo below) –>:  Classic Bruschetta
Once your chicken is grilled, top each piece with thin Fontina or Mozzarella cheese to melt nicely over the hot chicken (or you can also pass around the cheese at the table too).  After the cheese melts, then put a layer of Bruschetta on top of the cheese.
Italian recipes are known for their simplicity with a focus on high-quality and super fresh ingredients.  The distinctive aroma of fresh picked basil and garlic from my garden is like no other!
One key thing to remember whether you add cheese or not:  Make your Bruschetta in advance so that all of those lovely fresh flavors marry together perfectly!  Time is an advantage while you prep for your guests!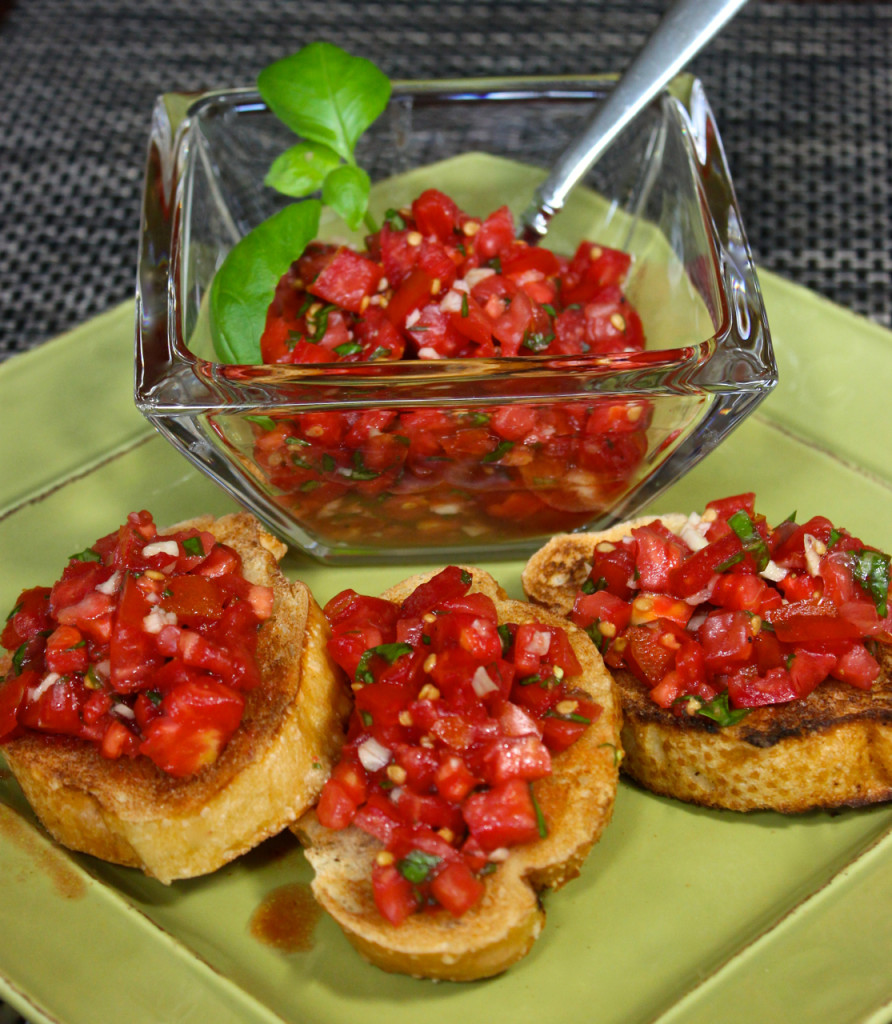 The perfect finishing touch is a drizzle of good quality, thick Balsamic Vinegar!
For everyone who prefers keto or paleo or low-carb recipes — you just found a winner!
This bruschetta chicken is just absolutely out of this world.  Every summer, this is the recipe that I look forward to the most!  It's versatile also, whether you grill your chicken or roast it in the oven, or cook it in an air fryer or on the stove, the classic Italian flavors that everyone enjoys will burst in your mouth with every bite! They're classic, fresh, and there's nothing that brings magic to a dish quite like fresh basil and garlic!
.
What is Italian Bruschetta Chicken?
Actually, Bruschetta is the most amazingly delicious Italian 'antipasto' appetizer/finger food that's enjoyed on top of slices of Italian or French bread.  It's one of the best ways to showcase tomatoes when in season!  Ripe, ruby-red, tomatoes and garden-fresh basil are the stars of the show in Bruschetta.  Basically, you just drizzle bread slices with extra virgin olive oil, rub with fresh garlic, roast or grill the bread, and then top each slice with the bruschetta mixture.
So in a nutshell, Bruschetta Chicken is an easy recipe of grilled chicken topped with the Bruschetta!  It's literally taking a classic Italian appetizer and turning it into a main entree!
As you can see, we really like a lot of Bruschetta on the grilled chicken.  By doing so, you have plenty more of the tomato/basil/garlic mixture to top additional toasted, garlic-rubbed bread!   So don't forget to serve with some freshly toasted Italian bread slices!  If you've got some extra garlic cloves on hand, make sure that you rub the garlic cloves all over the bread slices!
.
Tips on How To Make The Perfect Italian Bruschetta Chicken:
Prepare the tomato/basil/garlic mixture first.
Only use the freshest, ripest, summer tomatoes.  If you can't find the best summer-fresh tomatoes, try to use imported Italian San Marzano tomatoes (available online).  However, if you can't get San Marzano tomatoes, then use fresh Roma tomatoes.  Both of these varieties of tomatoes are easier to cut and won't turn into a mushy topping.
Use a good blend of dried Italian herbs (oregano, basil, parsley, rosemary), or Italian seasoning (or a little of both).
Not a fan of onion? No problem! Replace with finely chopped garlic!
Use freshly sliced Fontina, Mozzarella, and/or Parmigiana (parmesan) cheese.  A vegetable peeler is great for more thinly shaved cheese slices.
Either grill, roast, braise, or air fry the chicken.  Grilling really brings out a nice, complimentary smoky flavor for the chicken.
Believe it or not, don't use olive oil to coat the chicken for this recipe.  Why?  Because olive oil burns and smokes faster, you get that yucky, and/or burnt taste in your mouth. So you need an oil (or butter) that can stand high heat.
Use the best Balsamic Vinegar or Glaze that you can find and afford.  It truly makes such a difference!  You can find it in your food store or online.  It's addicting!
Chicken breasts should not be thicker than 1-inch, max. If your chicken breasts are thick, use a meat mallet or rolling pin to pound the chicken to a smaller and even thickness BEFORE cooking.
Cook the chicken breasts over medium-high heat.
DO NOT stir or move the chicken breasts around while cooking. Let cook for 5 minutes or until you can easily flip them over. If there's any resistance when trying to flip them, give it another minute before trying again.
Chicken breasts are cooked through when the internal temperature reaches 165F.
So grab a glass of prosecco, limoncello, or wine, and let's get to the kitchen and have some fun? 
Ingredients that you'll need:
Skinless, boneless chicken breast
olive oil and or butter (northern Italians use more butter as a result of being so closely located to Switzerland and Austria).   You can always use a little of both.
Italian herbs and seasonings
lots of fresh cherry tomatoes (2 – 3 baskets depending on how many you will serve)
lots of fresh basil
lots of garlic
a large red onion
good quality balsamic vinegar
freshly cracked sea salt and black pepper
.More Ways to Prepare Italian Bruschetta Chicken   
Since my first post sharing this family recipe way back in 2015, there have been lots of changes (and helpful too) to preparing our recipes.  Most notably the Instant Pot and Air Fryer.  Gotta love 'em.  So if you prefer not to grill, here's some guidance in preparing Italian Bruschetta Chicken in other ways:
AIR FRYER:  Preheat the air fryer to 350°F (~177°C).  Place the chicken breasts in the basket and cook for a good 20 minutes, turning them over halfway through, about 10 minutes (but always take a fork and knife and check the level of doneness).
INSTANT POT:  Select Pressure Cook on High or Manual and cook for 10 minutes for breasts under 2″ thick and 15 minutes for larger, over 2″ thick breasts.   Do a natural release for 5 minutes and then turn the pressure valve to venting.
OVEN ROASTING:   It is best to roast/bake chicken breasts at higher temperatures which seal in the juices that help caramelize the exterior of the chicken (so important!).  So set the oven thermometer for the best temperature at 425 degrees F and roast (uncovered) for 20 – 25 minutes.  Also:  A metal pan heats up faster than a glass baking dish which gives the chicken breasts crisper and more amber-colored edges.
STOVE TOP BRAISING:   In a large skillet, heat a couple tablespoons of vegetable oil or canola oil.   When hot, add the breasts to the pan and cook two at a time because you never want to overcrowd a skillet.  Cook/braise for 5 – 7 minutes* without touching them (this creates a beautiful crispy, amber-colored sear on the chicken).  Then flip them over, and if necessary add a tablespoon of oil/butter to the skillet.  Continue to cook/braise for another 5 – 7 minutes*.  With a meat thermometer, check for an internal temperature of 165 F.  * cooking time is dependent upon the thickness of the chicken breasts.
CONVECTION OVEN:  Some cooks strongly believe that baking chicken breasts is best done in a convection oven.  A high-temperature oven is a great way to go, set on 400° convection or even more is best.  The reasoning is that chicken breasts are lean meat so cooking at lower temperatures dries it out.  Convection ovens cook faster which seals the skin from the outside and keeps the meat moist.  When preparing skinless, boneless chicken breasts can become dry and tough if not cooked correctly. But oh, when cooked correctly, you will enjoy the most delicious, tender, juicy, and moist chicken breasts ever!
Remember to never overcook chicken which causes a poor, rubbery, tough texture that's just downright nasty!
What to Serve with Italian Bruschetta Chicken?
Serve any of your favorite side dishes, but here are the most highly recommended side dishes that pair very nicely with Bruschetta Chicken.
Pasta dressed in plain butter and garlic (the tomatoes are already in the sauce)
Garlic toast/bread 
YUM!!!!
I've been so blessed to have my family in Modena, Italy (where authentic D.O.P. "Aceto di Balsamico" — Balsamic Vinegar is produced) and who have shared some of their precious, ancient barrels of Balsamic Vinegar with me.  I use this old, sweet vinegar with reverence and in sparing amounts!
From my famiglia's Modena, Italy home, I share these wonderful photos of life in Modena, Italy!
  I highly recommend the following products for preparing this recipe!
PIN FOR LATER!

Print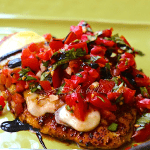 Bruschetta Chicken
Author:
Prep Time: 0 hours
Additional Time: 0 hours
Cook Time: 0 hours
Total Time: 0 hours
Category: Entrees / i Primi
Cuisine: Italian
---
4 – 6 boneless, skinless fresh chicken breasts
1 cup butter (or olive oil if you don't want the butter)
3 Tbsp. Italian herb blend, fresh or dried (ie: oregano, garlic, basil) all minced and blended together
4 oz. Italian cheese per chicken breast (soft, easy-to-melt cheese such as Fontina, Mozzarella, etc.)
Balsamic vinegar to drizzle over chicken when serving
OPTIONAL: 2 cups Italian-herb seasoned panko
---
Instructions
Brush the chicken with melted butter or olive oil.
Sprinkle herbs all over each breast.
Grill until desired doneness; approximately 5 to 8 minutes on each side. Be careful not to overcook.
Place on a serving platter with freshly-prepared Bruschetta (recipe through link provided above) ladled on top of chicken.
Serve immediately.
Optional: In winter when we eating a bit more heavily, blend the Italian herbs into 2 cups Italian-herb-based panko crumbs. Brush the chicken with butter/oil. Cover the buttered breasts on all sides with the seasoned panko.
---
.This post was first 
This post was first published in 2015 and re-posted with updated information in 2022.
.
Do you enjoy La Bella Vita Cucina?  
We'd love to have you as part of our community!   
Subscribe below to receive a FREE e-Cookbook and all of the latest recipes, travel tips,
and gardening ideas straight into your inbox!