Easy Cranberry Balsamic Vinaigrette with Garlic
Homemade dressings are SO much better than store-bought bottled dressings. WHY? Well, first of all, you know right off the bat that there are no preservatives in your homemade dressings . . . when you make anything yourself, you know what's in it, right? And those preservatives really make dressings (and any food) go wonky in the flavor category. I'm just sayin'! I can taste preservatives even if they are claimed to be tasteless.
Everybody wants fresh and healthy today. Just look at the huge number of new mothers alone who make their own baby food . . . and all made with love too! My daughter included for her triplets' food!
One of my latest favorite homemade vinaigrettes to enjoy this time of year is a slightly sweet, yet zesty Cranberry Balsamic Vinaigrette with Garlic! It really adds a yummy punch to salads. Trust me on this! It has just the right amount of sweetness, yet is perfectly tangy to give it that ying-yang balance.
And talk about easy! You can literally mix this up in 10 minutes. Even with it's ease of preparing, this Cranberry Balsamic Vinaigrette adds the perfect punch to any salad. And it's wonderful for dipping fresh vegetables. Another huge plus: If you're serving some crusty, artisanal bread, you can mop up this vinaigrette and savor every last drop of it soaked up in slices of bread. Heaven!
This recipe was created as a result of being inspired by Kathy, who is part of this blog's community of friends. So in honor of Kathy, I thank you!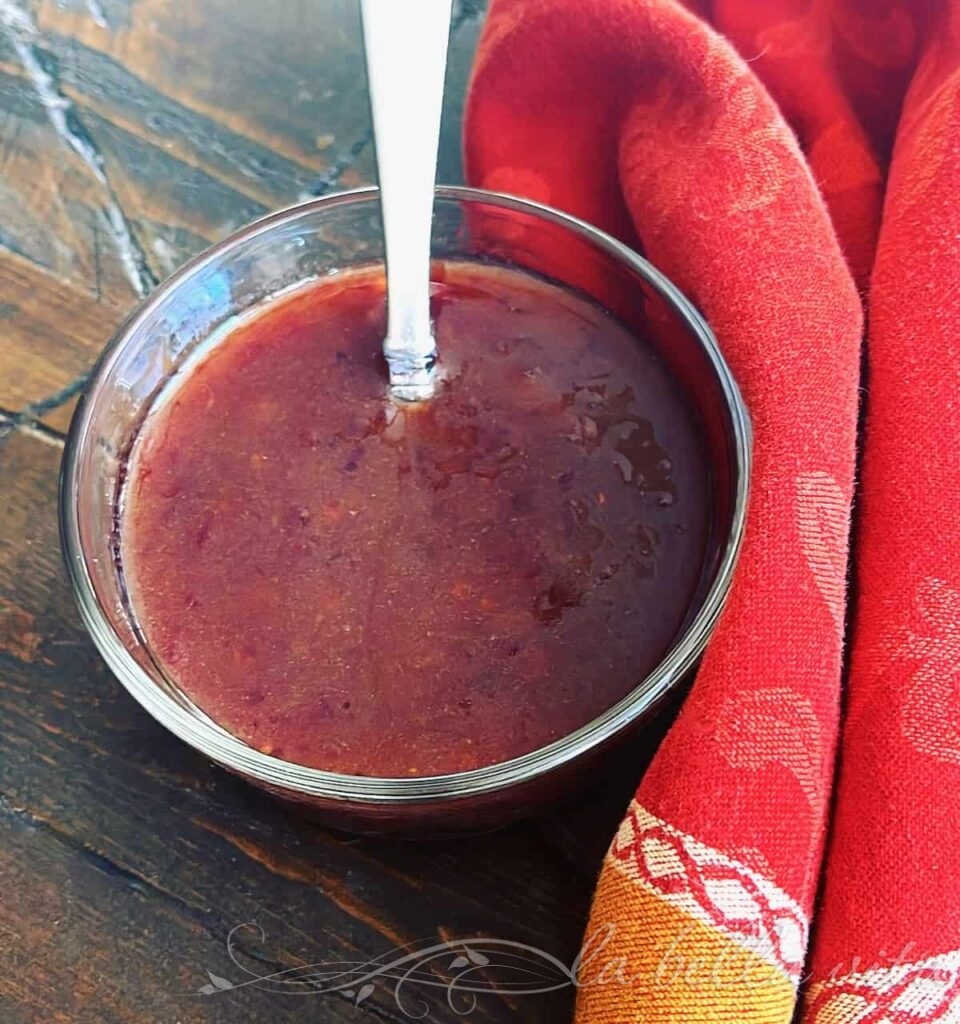 Tips on How to make Cranberry Balsamic Vinaigrette
You can make this Cranberry Balsamic Vinaigrette a day before if you want to have less to do so that you can enjoy your guests or family before sitting down to eat. Also by making it ahead, the vinaigrette's flavors are all marrying and mingling together which improves the flavor. Then just cover it and pop it into the fridge overnight. And if you make this early in the day, you're still giving for the flavor to be enhanced by time.
Pro Tip: You don't even need to use complicated equipment for this vinaigrette. Just use a good old-fashioned whisk and by hand, have a go with it. One less gadget, like a food processor, to clean is fine with me. But it's your choice. Either way works.
Using a jar with a screw-on lid is another great way to mix vinaigrettes and dressings. Simply add your ingredients to the jar, cover it tightly with the lid, give it a good shake, shake, shake, and ta-dah! Done!
What You'll Need:
Cranberry sauce – any will do. Homemade is best, but if you don't have any, the sauce from a can will do. You can use either the whole berry version or the jellied version. Whichever is your favorite.
Balsamic vinegar – Use the best balsamic vinegar that you can afford.
Olive oil – Use extra virgin whenever you are dressing a salad in order to be able to taste and smell the nuances of the olive oil.
Dijon Mustard – an absolute must to use Dijon for that perfect tanginess. Don't use regular mustard.
Fresh Garlic – always use fresh, never canned or jarred
Sugar, salt, and pepper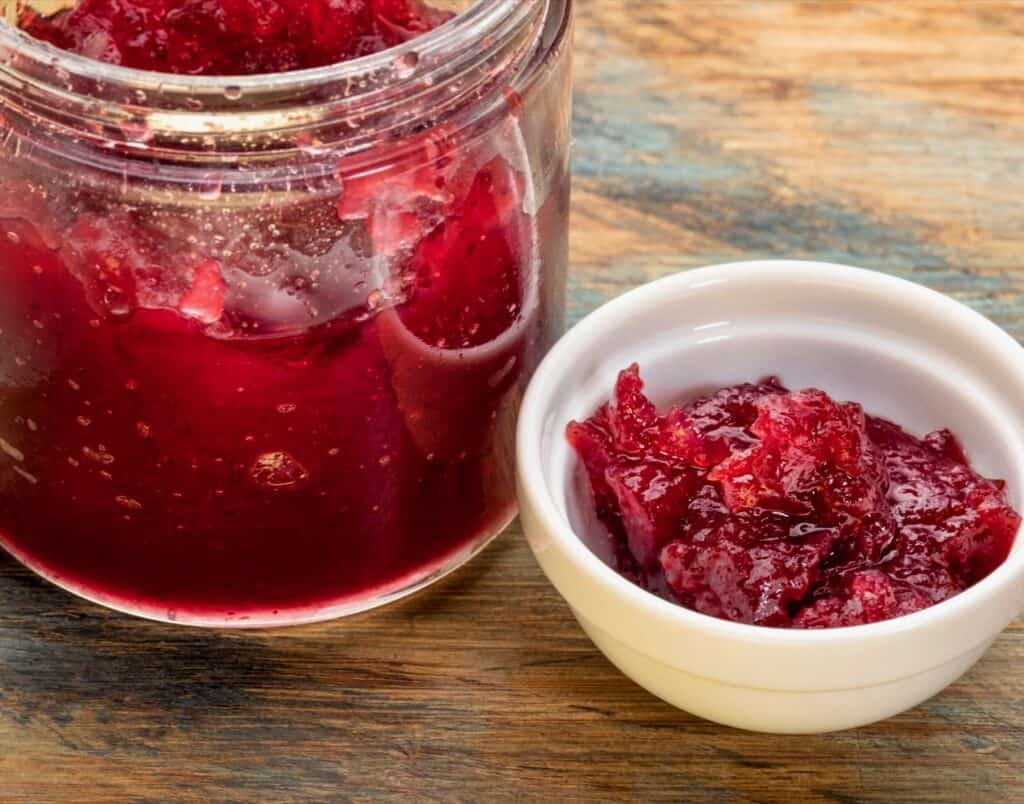 Use either jellied cranberry sauce (above) or one that's chunky with cranberries in it (below). Homemade cranberry sauce is the best for Cranberry Balsamic Vinaigrette if you have any
Other Ways to Use Cranberry Balsamic Vinaigrette
For sheer simplicity, drizzle this vinaigrette on any green lettuce for an utterly yummy salad.
It's absolutely epic when used on my Autumn Chopped Salad!
Use it for dipping freshly cut green, red, and yellow bell peppers, or any of your favorite fresh veggies!
It is amazing on a turkey and pepper jack panini too.
More Cranberry Recipes That You Might Enjoy!
Here I am in my cousin's home in Modena, Italy (in Emilia-Romagna very near Bologna), where only authentic, DOP-endorsed balsamic vinegar is produced. Every family has their own production of barrels and barrels of balsamic vinegar dating as far back as when the family began producing it. Every time I visit, my relatives generously gift me with age-old balsamic vinegar that is as thick as syrup! Grazie mille, tiamo!
FREE! A delicious mini e-Cookbook with my favorite recipes on the blog! It's my gift for signing up to receive the newsletter!
Print
Easy Cranberry Balsamic Vinaigrette with Garlic
Author:
Prep Time: 10 minutes
Total Time: 10 minutes
Yield: 1 – ½ cups 1x
---
Description
Whenever you need a tangy, fruity vinaigrette or salad dressing recipe, this Cranberry Balsamic Vinaigrette with Garlic will have your tastebuds happy, happy!  It's not only delightful drizzled on a crisp lettuce salad, but also as a dip for sweet apples in the fall, as well as colorful green, red, and yellow bell pepper strips.
---
1/3 cup balsamic vinegar (aceto balsamico)
1/2 cup cranberry sauce (canned is fine, unless you have your own homemade)
1 teaspoon Dijon mustard
3/4 cup extra virgin olive oil
1 large garlic clove, minced
1 teaspoon sugar
1/2 teaspoon salt
pinch or two of freshly ground black pepper
---
Instructions
You can combine these in a medium-sized bowl using a hand-held whisk or use a food processor, whichever you prefer.
Combine all ingredients and blend well.
Taste, taste, taste.
Adjust anything to your taste preferences:  if you like more salt, or more sugar . . . than add a bit and taste again until you are satisfied.  Adding more olive oil will tone down the cranberry and balsamic vinegar's strong flavors.  Or maybe you want a bit more Dijon mustard.  Play with it until you are happy.
Store in an air-tight covered container and place in the refrigerator for up to four days.
---
---
Nutrition
Serving Size: 2 Tbsp.
Calories: 175
Sugar: 10g
Sodium: 25mg
Fat: 9g
Saturated Fat: 3g
Unsaturated Fat: 3g
Trans Fat: 0g
Carbohydrates: 15g
Fiber: 1g
Protein: 1g
Cholesterol: 0mg
Keywords: cranberry, balsamic vinegar, vinaigrette, salad dressing
Do you enjoy La Bella Vita Cucina?
We'd love to have you as part of our community!
Subscribe below to receive a FREE e-Cookbook and all of the latest recipes,
travel tips, and gardening ideas straight into your inbox!