Fresh and Easy Corn Salsa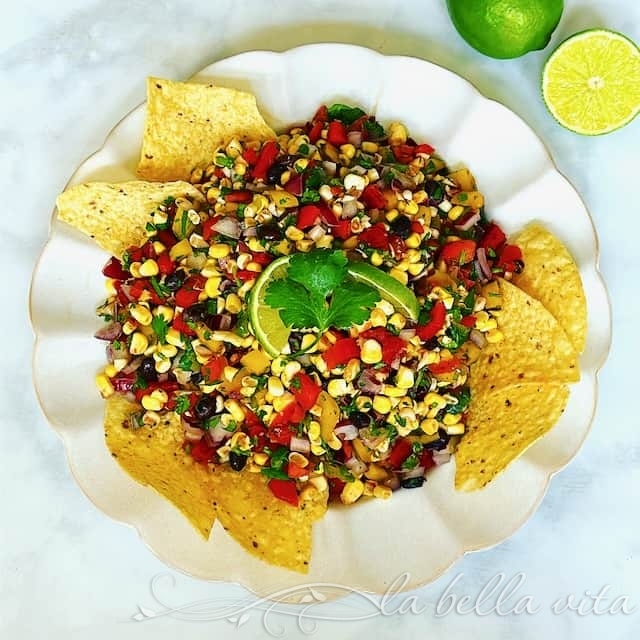 Looking for a recipe that's fresh and overflowing with vivid, bright colors and tastes absolutely fantastic? Oh yes, and easy to make? This Fresh Corn Salsa is your new go-to and keep-on-repeat recipe for a yummy appetizer that everyone will go crazy for!
Fresh Corn Salsa is one of the most delicious recipes of summertime! As an easy snack to nibble on or take to a barbeque or potluck, it's a total winner!
Love fresh corn?
Love salsa?
Then you'll love this recipe that pairs both corn and salsa together. Oh my! Yummo!
Who can resist fresh off-the-cob sweet corn, colorful chunks of fresh red onions, red and yellow bell peppers, black beans, Roma tomatoes, cilantro, jalapeno, and lime juice? I know that you're going to love this and whoever you share it with!
The versatility of Fresh Corn Salad is endless, so play with ingredients to create your favorite version. Add a little cumin or chipotle pepper to dial up some added punch of chili flavor. Or add creamy, buttery chunks of avocado, crumbled Cotija cheese, and/or fresh pico de gallo . . . And that's it! Mmmm!
This appetizer has it all: crispy texture, zesty combination of both sweet and savory flavors (yin and yang perfection, right?). It has just the delightful amount of heat too. You can use it as we do, as a dip with tortilla chips or even to top on your favorite fish tacos, burritos, and quesadillas. And how about as a simple accompaniment to any of these classic Mexican dishes, which serves more as a side corn salad than a dip?
Your entree doesn't have to be Mexican either. How about serving this corn salsa alongside some grilled fish, chicken, or steaks? Tempting, isn't it?
There are so many delicious appetizers to make . . . I know! But this one steals the show during the summer months when corn is at its peak of super sweetness and freshness. Puh-lease use your corn as soon as you bring it home since it loses its heavenly sweetness every day you let it sit in the fridge (never, ever leave fresh corn unrefrigerated)!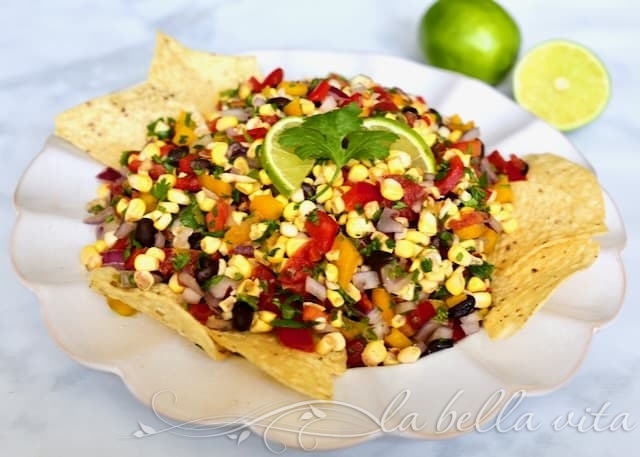 So let's gather up all of your ingredients and head to the kitchen!
Here's what you'll need to make my fresh corn salsa:
The freshest sweet corn you can get! Fresh corn kernels sliced off the cobs are hands-down the sweetest and crispiest to use in this recipe. Now if corn is out of season, you can use frozen corn or canned corn — and the best, sweetest corn from a can is Green Giant NIBLETS! Either all yellow or white and yellow kernels are just fine! But if you are using fresh corn, get it in the refrigerator as soon as you get home, or shuck the husks off and prepare it immediately to eat. Corn loses its sweetness and moisture very quickly.
Juicy, summer tomatoes – Corn and tomatoes are ripe at the same time in summer and are the perfect pair. A must-add to fresh corn salsa! Use either small cherry, grape tomatoes or "Roma's" that are easier to chop up.
Red and Yellow Bell Peppers – Other veggies that are harvested alongside corn and tomatoes are bell peppers that add so much brilliant vivid color to the mix that I just adore. And oh so super sweet and crunchy too!
Red Onion – for some zesty tang and lovely color! Green onions are also good for this salsa.
Jalapeno Pepper – Add as much or little as you want for some a spicy kick of heat. Really, one jalapeno is not that hot at all in this recipe!
Black Beans – These just work perfectly in this salsa. They're an optional way to add protein too.
Fresh Cilantro – A must for that perfect fresh Mexican herb flavor and bright green color.
Fresh Garlic – I can't live without garlic taking any savory recipe to higher levels! Do add it and enjoy the sharp difference in taste!
Freshly-Squeezed Lime Juice – Lime juice is critical to this recipe for that extra zesty ZING! Fresh lime juice is a must and not from the bottle.
Cumin – Just a dash or two for some added flavor.
Fresh Pico de Gallo – Adds even more flavor and that makes a huge flavor difference!
You'll find all of the ingredients, and measurements with complete instructions in the PRINTABLE RECIP CARD at the bottom of this post!
Helpful Tips for Preparing Fresh Corn Salsa
Use FRESH CORN whenever available for the most delicious results!
Prepare corn any way that you prefer: We enjoy both grilled corn or simply raw and uncooked. Grilling corn adds a delightful charred smokiness to the kernels. Believe me, raw is delicious! It's totally up to you.
Frozen and canned corn can be substituted when fresh corn is not in season. Green Giant Niblets is the best brand on the market for sweetness and crispiness.
Limes should be at room temperature for the easiest way to squeeze out their juices. Gently roll them around with the palms of your hands on the counter or cutting board to soften the rinds.
Prepare and store in an airtight container in the refrigerator for up to 3-4 days in advance. Corn salsa is a great recipe to make for a summer meal or get-together because when made ahead by one day, all of the flavors marry together.
If you want avocado chunks in your corn salsa, add those just before serving since they turn brown quickly.
Add more freshly minced cilantro at the time of serving for some extra bright green color peeping through the salsa!
What to Serve with Fresh Corn Salsa
There are just so many ways to serve Fresh Corn Salsa! Here are a few delicious ways that will soon become your favorites:
on top of a platter of nachos!
as a topping on or in your favorite

fish tacos,
burritos or burrito bowls,
taco salads,
quesadillas,
veggie fajitas,
wraps

alongside grilled entrees such as fish, chicken, steak, burgers, or pork chops!
More Salsa Recipes That You May Enjoy!
Have you made this recipe for Fresh Corn Salsa? Please let us know what you think and how it went in the comments below!
Print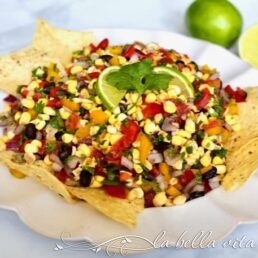 Fresh and Easy Corn Salsa
Author:
Prep Time: 30 minutes
Total Time: 30 minutes
Category: Appetizers
Method: No Cook or Bake
Cuisine: Mexican
---
Description
This Corn Salsa is super fresh with mega flavors from sweet corn, juicy tomatoes, and other Mexican classics.  No cooking or baking is required which is so welcome on sizzling hot summer days!  Perfect for get-togethers, backyard grilling, or picnics!  Buon Appetito!
---
8 ears of fresh corn, kernels removed from the husk
1/2 can of black beans, drained and rinsed (use the whole can if you prefer more)
1 red bell pepper, diced into 1/4" pieces
1 yellow pepper, diced into 1/4" pieces
1 jalapeno pepper, diced into 1/4" pieces
1 medium red onion, diced into 1/4" pieces
6 Roma tomatoes. diced into 1/4" pieces
2 large cloves of garlic, minced
1 tsp. red pepper flakes
1 cup fresh cilantro, minced
freshly-squeezed lime juice from 1 lime (use more if you prefer)
Serve with Tortilla chips
BUON APPETITO!
---
Instructions
In a large mixing bowl, mix together the corn, tomato, red onion, red and yellow bell peppers, black beans, cilantro, garlic, red pepper flakes, and lime juice.
Mix well to combine.
Adjust and add any ingredient that you prefer.
Add freshly-cracked salt and black pepper if you prefer.
Refrigerate for at least an hour to allow the ingredients to marry and blend nicely.
Serve with tortilla chips.
---
Notes
Grill the corn on the cob if you prefer before adding to the salsa.
Add chunks of avocado if you like.
Add some Rotel tomato and chili if prefered; pico de gallo is also good,
Add some chipotle, and/or cumin to spice it up another level.
Keywords: Corn Salsa, Corn, Salsa, Appetizers, Mexican
Please share your thoughts about this Fresh Corn Salsa recipe in the comments section below! I'd love to know how you prepared and served it!
Grazie e' Buon Appetito!