Easy Strawberry Salsa
Fresh strawberries! Gotta love 'em! And when they are in season, I'm whipping them up in delicious recipes such as Strawberry Bellini , or Strawberry Crostini , or Strawberry Panna Cotta . And when the heat is on outside, this no-bake Easy Strawberry Salsa is so refreshing and a major winner for finger-food simplicity!
This strawberry salsa is super easy to prepare with only a few ingredients. Made with fresh ruby red strawberries, bright green fresh jalapenos, the vivid colors have a huge wow factor on the eyes! So beautiful! And the flavor? Well, if you're a lover of salty and sweet combo recipes, then you'll really love this salsa.
The jalapeno, onions, and cilantro add some spicy heat plus a savory and tangy bite to the mix, while the strawberries add the sweetness . . . and one more ingredient does as well: To better equalize the balance of savory to sweet, I add sugar! Yes, that's right . . . sugar! For my family, strawberry salsa recipes can be a bit too strong and a wee bit out of balance. Adding just a little bit of sugar solves that issue. You can also use honey instead.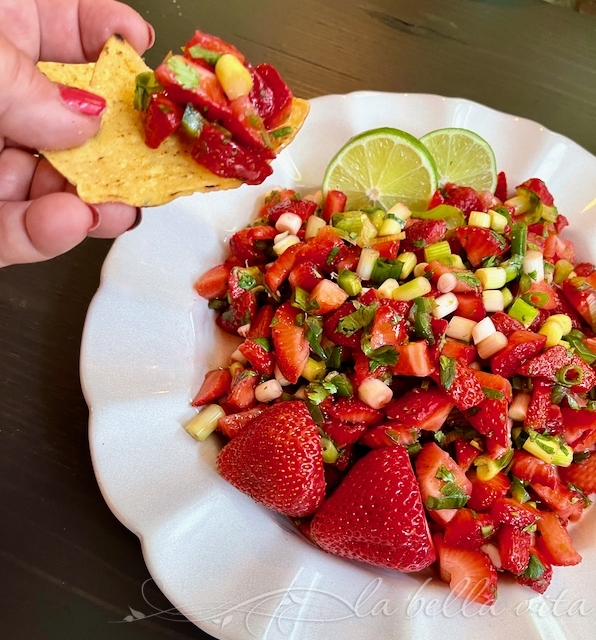 I like to have this around to enjoy as a snack for when I start to get the munchies and reach for something that might not be as healthy as this strawberry salsa is. You can even get creative with it as a topping for grilled fish, fish tacos, or spooned over some cinnamon ice cream. Or if you don't worry about the carbs, give yourself and your guests the treat of dipping cinnamon chips into this dip. Oh yum!
So let's get to the kitchen!
Gather all of the ingredients that you'll need:
Strawberries
Jalapeno pepper
Green onions (or red)
Cilantro
Limes
Sugar/honey
More strawberry recipes that you might enjoy:
Print
---
1 pound (2 cups) fresh strawberries, hull removed, diced into 1/4" pieces
1 jalapeno pepper, stem and seeds removed, finely diced
1/2 cup green onions, sliced including the green stems, or 1/2 cup of red onion, finely diced
1 lime, zest and juice
1 cup fresh cilantro, minced
1 – 2 Tbsp. sugar or honey (to taste)
Salt and pepper (to taste)
Garnish:  Strawberries and Limes, sprigs of cilantro
---
Instructions
Toss all ingredients together in a medium-size mixing bowl until well combined.  
Add sugar/honey, salt and pepper to taste.
Garnish
Serve immediately with tortilla chips.
---