Easy Southern Peach Sangria in Minutes
Ah, peaches are still in season and wow, are they ever sweet and juicy this year! We've really enjoyed them in cobblers, salads, crostate, and cakes (torte). I still needed to create something totally refreshing in the beverage category. What better way to use sweet peaches than in a freshly-infused Southern Peach Sangria? On top of that, I was in the the local booze store and on display was a huge variety of peach-infused vodka.
That got my attention!
So I bought 2 different varieties to do a taste comparison. There is a major difference in the two brands that I tested (happily)! You are going to love the vodka that I recommend so much, you'll drink it straight on ice alone! And no, my friends, there's absolutely no compensation for me to do this. I simply wanted to share something that will truly delight you.
Over the weekend, my husband and I took a leisurely drive up into the Blue Ridge Mountain foothills on the state border between North Carolina and South Carolina. We always buy peaches from the same family who pick their peaches in the morning and so they are perfectly ripe and at the perfect level of softness — not hard, not green, and not mushy. Like Goldilocks, they are just right!
We bought 2 bushels and froze what we didn't use/eat! This winter will be so delicious with all of the summer goodness stored in our freezer!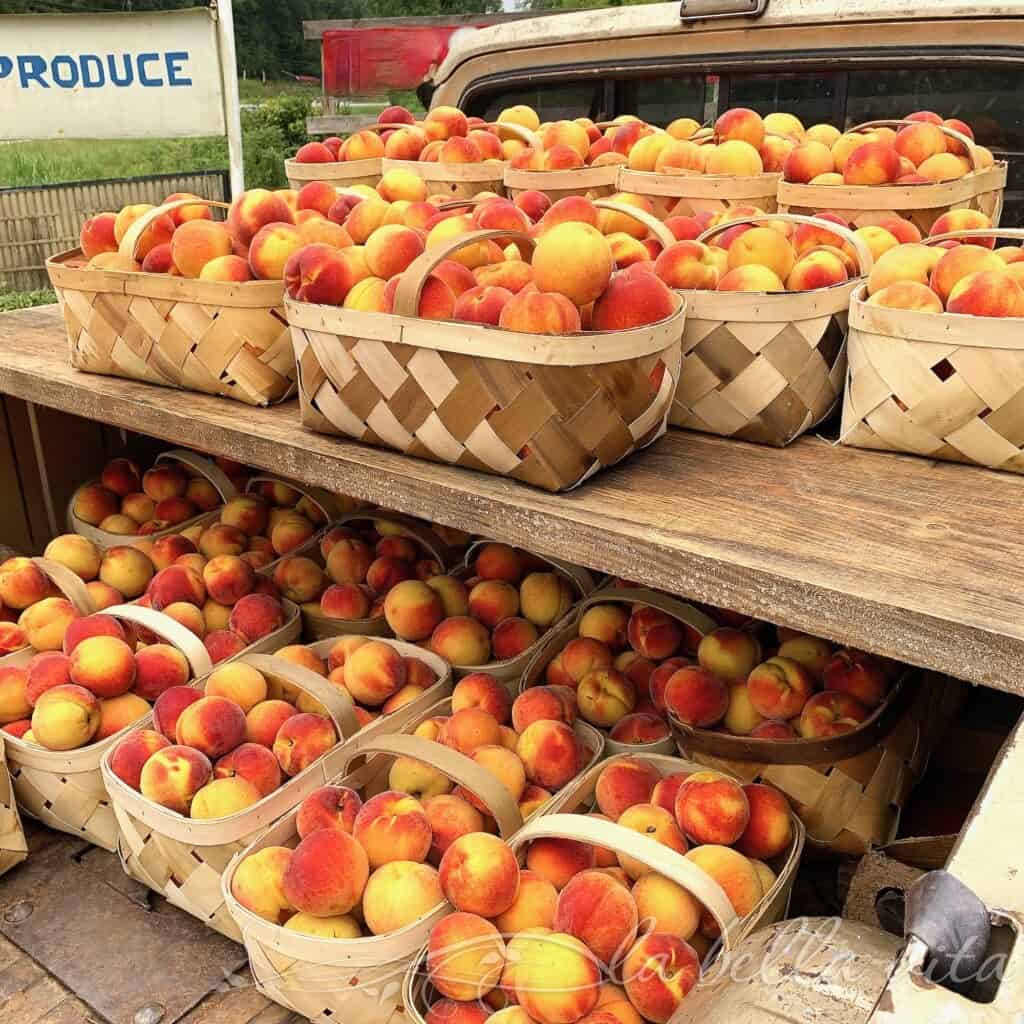 The dog days of summer can be super hot and humid in the Carolina's (and elsewhere too). So that's reason enough to enjoy ice cold drinks to refresh yourself while sitting in some cooler shade. Thank you, that old rocker will do just fine for this laid-back activity of sipping on a cold bevvie!!
Such a wonderful season, summer is!
I haven't met many peeps who don't like sangria, so that's the recipe route I chose to go with for these freshly-picked peaches. What could be more seasonal than Southern Peach Sangria? I've never liked super sweet cocktails such as a Maragarita. But this Southern Peach Sangria is another Goldilocks flavor: Not too sweet and not too sour . . . with just the right blend of fruit, this sangria is JUST RIGHT!
This has just got to be one of the easiest cocktails you'll ever make. It certainly sings "SUMMERTIME"!!
Tips for making a great Sangria
Select a wine that you prefer, even if a recipe says otherwise. After all, it's you who needs to enjoy this beverage!
Most Sangria recipes call for red wine as a must-have ingredient. But in this recipe, it's only added to the white wine to create a slightly pink-salmon color that highlights the color of the fresh peaches. If you used red wine alone, you wouldn't see your beautiful peaches through the darker wine.
The wine doesn't have to be very expensive, unless that's what you prefer. But you certainly don't ever want to go too cheap . . . the wine is just nasty. Your guests wouldn't like that very much at all. What can you afford? Go with that as your guide for the best price for your sangria.
ALWAYS use seasonally fresh fruit and any fruit juices that mix well with the fruit that you're highlighting.
For the peaches, you can use white or yellow peaches, as well as freestone or not. White peaches are great, but harder to find (they are the peaches used in the classic Italian Bellini from Venice), and I prefer using freestone peaches simply because it's just so much easier to pull the stone out.
In the summer (which is truly the season for this recipe), use green-fleshed apples to compliment the peaches. Using red apples overpowers the peaches and you don't want that, plus they aren't in season during summertime either.
Mix the ingredients in a large pitcher, and chill for at least a few hours (or overnight). Fill pitcher with as much ice as you can. This lovely sangria becomes more peachy in flavor as time goes by.
When you're ready to serve, pour into glasses and serve over ice. Cheers!
Words of Wisdom about Wine
Sangria calls for a second liqour, such as brandy, another wine, other spirits like vodka, other mixers, and/or fresh seasonal fruit juice. Get bold and brave here and add some variation to the liquors you're using. Experiment on your own or with a friend/partner/spouse to get to the right flavor balance before serving it to a group. Here, I played with and am THRILLED with an artisanal vodka that successfully (and deliciously) infused peach flavors into the vodka. Delightful!!
Look at the real peach slices floating in the bottle!
Pick a great mixer to bring it all together
Sangria always includes a non-alchoholic liquid such as fruit juice, a special mixer, and of course, the addition of fresh seasonal fruit that provide natural liquid and sweetener.
You can stick to the basics in this category. A simple lemon-lime soda or ginger ale pulls together all the flavors in your sangria. It can also bring down the alcohol content of your sangria if you are wanting to keep it light.
Fruit juice is a great choice because it adds some sweetness to the mix without having to add sugar. Having a little sweetness, whether from a sugar replacement or from regular sugar can balance out the perfect sangria and you can achieve this with juice, and/or fresh fruit.
For the mixer you can always use sparkling water, soda, champagne, Prosecco, or even seltzer to elevate Sangria to the next level. The bubbles aerate the wine and liqueurs to release more aromas.
If you are using a strong wine and bold juices or liqueurs, stick with a sparkling soda, seltzer, or even sparkling water. They will add a nice balance to the sangria!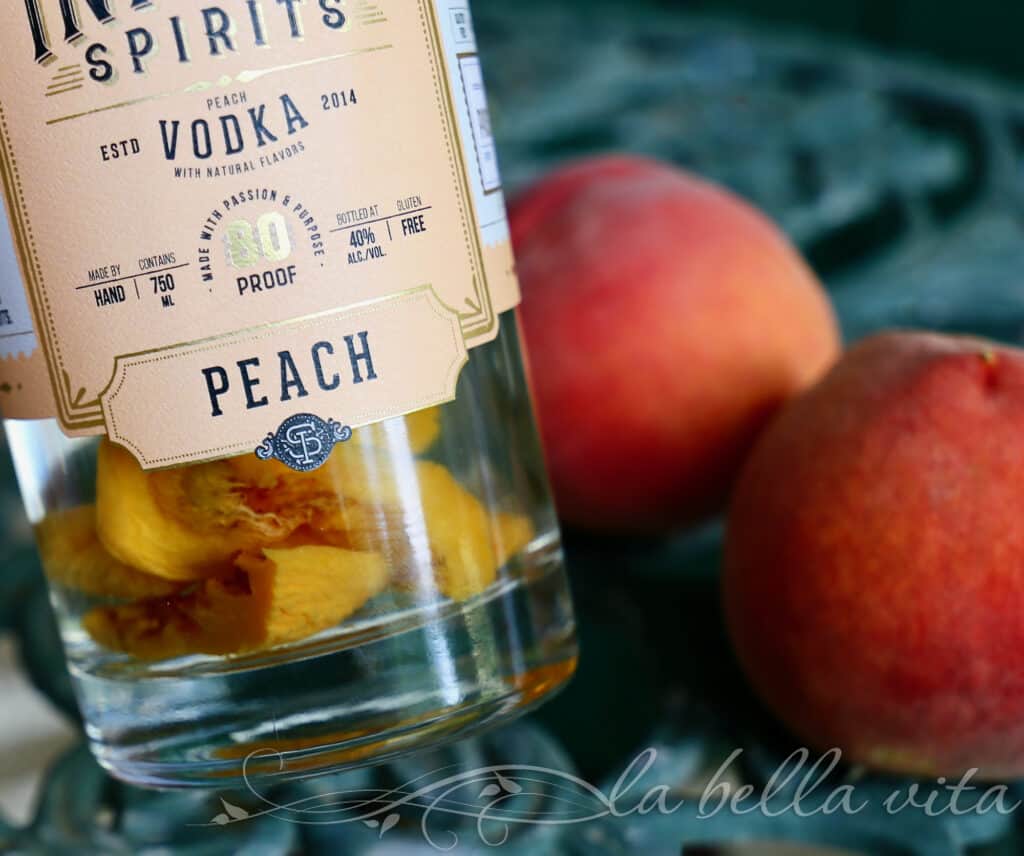 Other recipes for delicious beverages include:
Products that I JUST LOVE and use that I think you'll really enjoy too!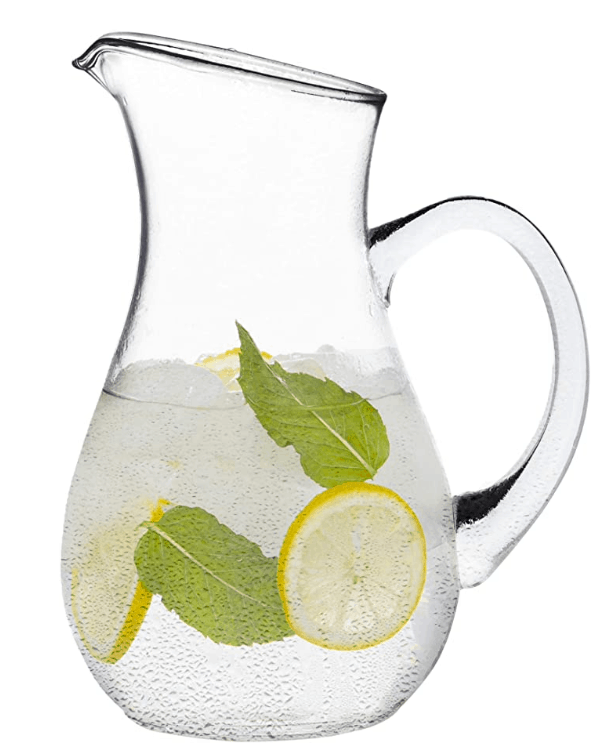 PIN FOR LATER !

Print
Southern Peach Sangria
Author:
Prep Time: 15 minutes
Additional Time: 15 minutes
Total Time: 30 minutes
Yield: 6 Servings 1x
Cuisine: Spanish
---
4 fresh peaches, preferably "freestone", pitted, skin left on, cut into 1" slices
2 – 3 Granny Smith apples, skin left on, cut into 1" slices, seeds removed
1 bottle chilled white wine of choice (Pinot Noir is what I use, Pinot Grigio, Chenin Blanc, or and Chardonnay are good too) 
¼ bottle chilled red wine of choice 
24 oz. Lemon-lime flavored soda such as 7-Up or Ginger Ale
1 – 2 cups Infused Peach Vodka (or it's up to you how much or how little vodka that you want to add) 
Optional:  8 whole mint leaves (no stems) to mix in the sangria itself
Mint sprigs on the stems for garnish
Optional and very nice:  2 cups whole, fresh red raspberries
---
Instructions
In a large, deep pot put in all the liquids (wines, lemon lime soda, peach vodka). Mix gently top blend well.
Pour 1/2 up a pretty glass pitcher.
Add everything else.
Add ice cubes.
Garnish with mint leaves and/or red raspberries.
Chill until you're ready to serve!
Buon Appetito! Salute'!

Roz
---
Notes
Tone down the alcohol content by adding ½ to 1 cup sparkling water.