How To Make a Roasted Balsamic Beet Salad
Beets are just the best in my (cook)book. Ever since I was a young child, my mother always made a humble beet salad. It seems as if cooks are suddenly going crazy over beets! It's just like 'risotto', 'polenta', and 'tortellini', that were never heard of in mainstream American households until the last 20 years. In the 60's, these were all standard fare in an Italian home! So I'm happy to show you how to make Roasted Balsamic Beet SalaThis is in memory of my mother who handed down my Italian family's humble way of cooking to me.
But before I get around to chatting with you about this recipe, I wanted to talk a bit about beets.
My husband hates them! I love them! His body does just fine without them. My body thrives when I feed it some beets. Does any of that sound familiar? Maybe you love artichokes, and your significant other hates them! I tell you, I could just go on.
So about this big burgundy-red-purple-ish orb of a vegetable . . . beets have this incredibly natural sweet flavor. Actually, people used to make sugar out of beets way back in the old days (and some might still be doing this). Which is too really bad for those on a keto or low carb path. Because of their sweetness, beets are a real 'no-no' on keto diets.
BUT I'M NOT ON THE KETO DIET (at the moment anyway).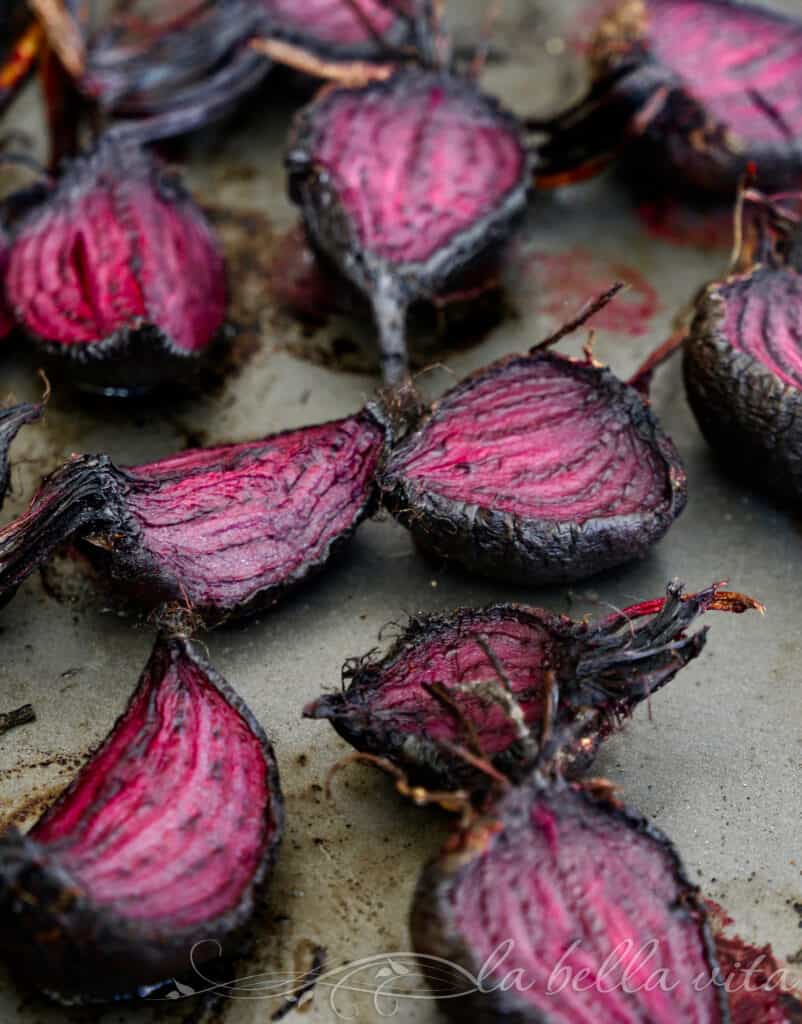 Aren't these roasted beets just beautiful? I had so much fun shooting this photo with all of the deep colors! Just gorgeous!
Did you know that:
over 80% of the calories in beets are in the form of carbs,
even though only 1 cup of beets has 13 grams of carbs,
that same cup as 13 grams of carbs, even if some of that is high fiber,
the majority of the calories in beets are in the form of SUGAR.
Beets are Good For You!
Beets are super nutritious and provide many health benefits. There's some incredible stuff going on inside those beautiful veggies!
Eating beets regularly can help keep you in good health!
Here's just a few of the Health Benefits of Beets
The MAIN reason that I'm grateful for beets is that:
Beets help lower blood pressure and help prevent heart disease
I have high blood pressure; it runs in my family. Small size or large, young or old, male or female, almost everyone in my family is plagued with high blood pressure.
Beets have the potential to NATURALLY lower blood pressure. The reason that beets are good for hypertension is due to their content that helps improve blood flow by reducing homocysteine (which has been found to be linked to heart attacks and stroke). And that benefit helps the entire cardiovascular system and helps to reduce blood pressure.
So that's a MAJOR reason to regularly enjoy beets!
Other studies have found that the compound betaine found in beets can help to alleviate angina pain and shortness of breath (which I also have on occasion).
Beets help detox and cleanse the liver and kidneys
If you're on the same wave-length as others in pursuit of better health, then you're seriously including beets in your nutrition. If you want to cleanse the toxins from your liver, you need to eat some beets on a regular basis; weekly is best. Beets contain powerful and beneficial antioxidants that detoxify your liver by breaking down free radicals to better clean or flush those bad boys out of your liver and kidneys.
Beets are beneficial in lowering cholesterol
I also have high cholesterol too.
Because of their antioxidants and folic acid, beets lower cholesterol naturally by reducing the 'bad' cholesterol (LDL) and thereby help prevent further health complications caused by high (bad) cholesterol.
Beets are anti-inflammatory
Just about all of us suffer from some level of inflammation simply due to the common American way of eating.
But here's another beneficial effect of beets on our health: They have an anti-inflammatory effect on our bodies which helps prevent various chronic diseases caused by inflammation.
Beets can improve cognitive performance
As we get older (which I'm actually there right now), the content of beets can help improve our brain functioning and help improve our memories. Goodness knows how forgetful we can get in our later years! Nitrate in beets increases the blood to flow into the brain giving it a fabulous boost in cognitive performance! Now that's cool!
So, to help your body get rid of harmful toxins and prevent developing chronic diseases, make sure and regularly consume beets as part of a healthy diet.
You can make this salad to get a shot of its nutrients to take advantage of its powerful health-boosting properties.
Tips on Storing and Cooking Beets
Beets can be stored through the winter if they are in a cool dark place that is slightly humid. If stored in warm dry places, beets will tend to sprout and shrivel up.
You can also store beets by freezing them. Before freezing beets, you have to cook them until tender. Then chop or slice the beets and store in the freezer.
Beets can lose their health benefits if cooked for too long, when preparing this Roasted Beet Salad, keep it in mind not to over roast the beets.
Once you prepare this Roasted Beet Salad, it can be kept in a covered container for up to 3 days.
I have some other recipes for roasted vegetables that I think you might enjoy as well:
Roasted Corn with Black Bean and Avocado Salad
Fresh Green Haricots Verts (French Green Beans) with Roasted Vegetables
Roasted Parmesan and Garlic Carrots
How to Roast and Freeze Red Peppers
Italian Roasted Potatoes with Garlic and Rosemary
Roasted Tomato Bisque with Parmesan Crisps
Crispy Garlic Parmesan Zucchini Chips with Roasted Garlic Aioli
Here are some essential cooking tools that will help you in the kitchen with this recipe and many others: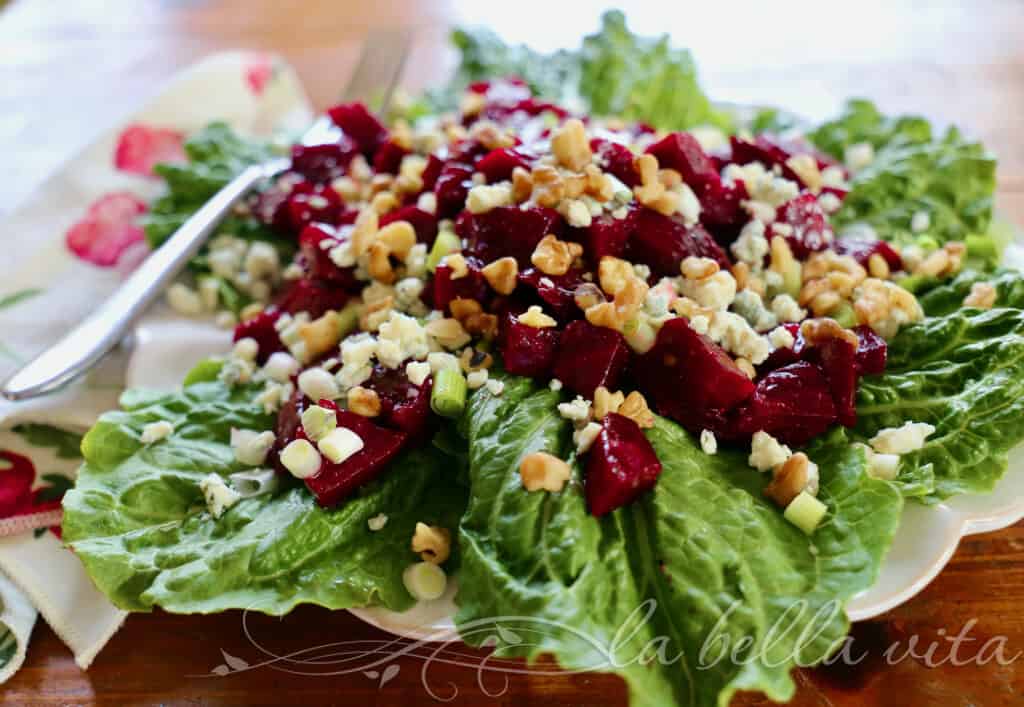 Print
Roasted Balsamic Beet Salad with Gorgonzola and Walnuts
Author:
Total Time: 0 hours
Yield: 4 – 6 Servings 1x
---
8 medium to large beets
2 –3 bunches of green onions (shallots)
2 – 3 Tbsp. olive oil
8 – 12 green leafy lettuce (romaine, bib, arugula, red leaf, assorted varieties)
4 – 8 ounces soft Italian Gorgonzola cheese (you can substitute goat cheese, but not Feta which is too tart)
1/2 cup roasted and chopped walnuts, pecans, or almonds
For the vinaigrette:
1/2 cup balsamic vinegar
1/2 cup good olive oil
2 teaspoons Dijon mustard, such as Grey Poupon
Freshly ground salt and black pepper
---
Instructions
Preheat oven to 400°F. 
Pour the olive oil onto a shallow baking pan.  Add the beets and roll them around to coat with olive oil.
Roast 1 hour or until beets are tender depending on their size until a small sharp knife inserted in the middle indicates that they are tender.
Meanwhile, while the beets are roasting, whisk together the vinegar, olive oil, mustard, 2 teaspoons salt, and 1 teaspoon pepper and set aside.  You want to have the vinaigrette ready when the beets are warm.
Once the beets are roasted and tender inside, cool them until they are able to be handled, about 15 minutes.
Remove the peel (skins).  You should be able to easily slide off the skin when the beets are lukewarm.  Peel the beets with a small, sharp knife over the sink or parchment paper so the beets don't stain your cutting board. 
Cut the peeled beets into quarters, chunks, or slices, whatever you prefer.  I have cut beets in each of these forms and I love them all,
While the beets are still warm, place them in a large mixing bowl along with the onions.  Gently toss.
Toss them with half of the vinaigrette (warm beets absorb more vinaigrette), 1 teaspoon salt, and 1/4 teaspoon pepper. Taste for your preferred level of these seasonings.
Place the lettuce in a separate large mixing bowl and toss it with enough vinaigrette to moisten but not soak and over-dress the lettuce.
Put the dressed lettuce on a serving platter. Using a large serving spoon, arrange the beets, Gorgonzola cheese, and nuts on top. 
Drizzle with additional vinaigrette, if desired, and sprinkle with salt and pepper, if preferred.
Serve warm or at room temperature.
ENJOY and BUON APPETITO!
---